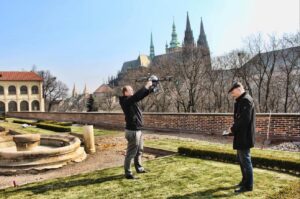 UpVision, a Czech provider of unmanned aerial systems (UAS) services, has announced that it has carried out a detailed mapping of Prague Castle.
Prague Castle is regarded as the most important castle in the Czech Republic, seen not only as a symbol of the capital city but also of Czech statehood. According to the Guinness Book of Records, it is the largest ancient castle in the world.
Upvision were granted permission from the Prague Castle Administration, the Office of the President and the Civil Aviation Authority to fly UAVs in the no-fly zone surrounding Prague Castle. The zone is the highest-guarded no-fly zone in the country, and so far UpVision have been the only Czech company to be granted permission to fly.
The main purpose of the project was to get aerial video documentation of the Prague Castle complex, including the Royal Gardens. In addition, panoramic photos at different heights were taken, from which interactive spherical views, used for virtual tours, will be created.
The main output from the UAVs was an orthophotomap in the Czech coordinate system with a high image resolution of 2.5 cm/pixel.
"The whole mapping took place under strict security and it was attended by soldiers of the Castle Guard, who provided safe running. Mapping lasted for several hours from the early morning, with exchanges of camera mounts and camera lens, always for the purpose of photographing with the best possible results. From several hours mapping, we have almost 100 GB of unique data," said Jakub Karas, co-owner of UPVISION.
The data will be managed by the Prague Castle Administration, who will be sharing videos and virtual tours of the complex on their website.