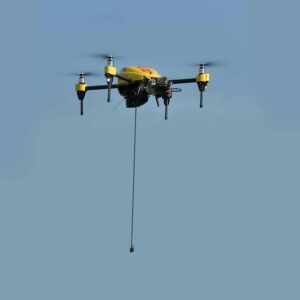 Search Systems Ltd., a UK-based manufacturer of UAV systems, has announced that it has begun the testing of acoustic searches with its Responder UAV platform.
Combining Search Systems' fast-response quadcopter with a microphone and audio recorder, the Responder audio search is designed to test the ability to find missing people under collapsed rubble, within unsafe buildings and other areas where rescuers cannot immediately access potentially trapped individuals.
If successful, the audio search capability will be extended to the Mariner 600, a UAV-ROV crossover for remote underwater searches using a hydrophone to identify or track marine life or boat activity.
Michael Thompson, Sales Director of Search Systems and marine photographer, said: "Acoustic searches have been carried out for years, particularly underwater when tracking whales, so it's a logical step to add the functionality to UAVs. The real added value comes when we can position a vehicle over delicate surfaces such as collapsed buildings, mudslides or inside where it's simply not safe to send in a dog or a rescue technician."