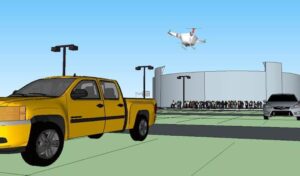 Search Systems Ltd., a manufacturer of unmanned aerial vehicles (UAVs), has announced that it has developed an anti-UAV intercept programme. Designed to complement current UAV detection systems such as acoustic listening devices or radar monitoring, the programme will provide security personnel with the ability to intercept and retrieve an unmanned aerial vehicle without destroying it.
Launched from a mobile or static platform, the system known as "Sparrowhawk" aims to mitigate against the threat from remotely piloted aircraft to national critical infrastructure, major public events, and close protection scenarios.
The current threat from criminals using UAVs applies around the world, with countries seeing an increase in drones being used to deliver weapons and contraband or directly attack people and property.
Michael Thompson, Sales Director of Search Systems, said: "We have been working on an anti-UAV concept for some time but the growth of criminal activity using drones is increasing dramatically. Current anti-UAV solutions are only really suitable for wartime or naval applications where there is little risk of collateral damage. The Sparrowhawk programme should provide both a deterrent and an appropriate level of response where airspace is already occupied by legitimate aircraft and avionics."