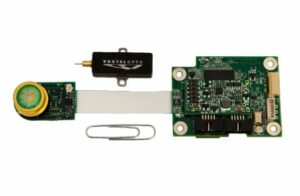 Voxtel Inc., a provider of photonic and 3D imaging technologies, has announced the ROX™ series of micro-laser rangefinder (µLRF). Smaller than a keyboard mouse, this new class of high-performance, eye-safe laser rangefinder in an extremely compact, lightweight package is designed for use by high-performance consumer, industrial, and military system integrators.
"We're delivering safety and unprecedented performance to a host of cost-sensitive applications," says Voxtel President George Williams.
In applications like hunting and sporting, survey, mapping, altimetry, and UAV-mounted ranging and surveillance, many of today's products use lasers that—when used at the power levels needed by the application requirements—are not eye-safe, and a tradeoff is made between safety and performance. Lasers operating at eye-safe wavelengths improve the capabilities of all these applications because beam power and quality need not be compromised.
"Voxtel customers want portable, cost-effective, accurate data at long range whether it's raining or not, and they want to get that data without risk of injury. We're delivering that capability to the market for the first time," says Williams.
The ROX series of micro-laser rangefinder is the culmination of Voxtel's efforts developing and refining its ROX technology over the last decade. The ROX µLRF combines low-divergence diffraction-limited eye-safe laser pulses with Voxtel's state-of-the-art APD receiver to achieve the most sensitive, highest performing rangefinder in its size and weight class. Unlike non-eye-safe solutions, the waterproof ROX series micro-laser rangfinder delivers reliable ranging of targets under direct sunlight, night time and low visibility conditions including fog, rain and snow.
The ROX uLRF integrates a ROX Rx series highly sensitive InGaAs APD receivers; a ROX Tx series small-form-factor eye-safe diode-pumped solid-state lasers; a visible aiming laser; and custom pulse-processing circuits.