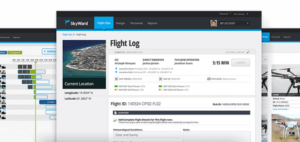 The team behind Skyward, a cloud-based information management platform for commercial drone operators, has announced that it has raised a $4.1 million round of expansion seed capital with participation from Draper Associates, Founders Co-Op, Moment Ventures, Norwest Venture Partners, Techstars Ventures, Verizon Ventures, and Voyager Capital. This round will be used to expand the engineering and product development team.
Skyward powers the global aerial robotics network, by connecting drones and their operators with the information they need to fly safely and in compliance with regulatory and insurance requirements. Skyward's cloud-based solution suite delivers the digital system of record, real-time air chart, and unique drone IDs essential for commercial operations.
"Drones today are like handsets with no network infrastructure," said David Famolari of Verizon Ventures. "Just as Verizon provides the critical infrastructure necessary to power mobile networking at scale, Skyward will provide the critical infrastructure needed to power the safe, compliant operation of commercial drones."
"You wouldn't operate a business in today's world without financial software, insurance, or a bank account," said Ari Newman, Partner, Techstars Ventures. "Skyward is providing this level of critical infrastructure for the commercial UAV world. If you are thinking about operating UAVs commercially, you need Skyward."
David Famolari of Verizon Ventures and Ari Newman of Techstars Ventures will be observers on Skyward's board of directors.
To provide for safe commercial aviation for any aircraft, regulators and insurers the world over need to know the who, what, when, where, and how for flight operations. Skyward is the first drone-agnostic information management platform to address this need, allowing an operator to easily access and manage the information and airspace data needed for safe, compliant drone operations across many commercial markets.
"As professional helicopter pilots, we flew in the low airspace all the time," said Jonathan Evans, Skyward CEO. "There are rules of the road up there, and systems we live by, and Skyward is extending them to drones."