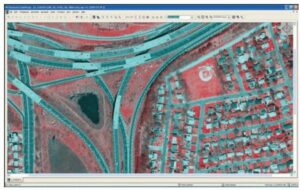 EagleView Technology Corporation, a provider of aerial imagery, data analytics and GIS solutions, has announced that its subsidiary Pictometry has been awarded an important Unmanned Aerial Systems (UAS) research project by NYSEARCH/Northeast Gas Association, a consortium of nineteen natural gas companies located across the U.S. and Canada focusing on research, development and demonstration. The project will bring together the expertise of Pictometry and the Northeast UAS Airspace Integration Research (NUAIR) Alliance to focus on the feasibility of using UAS to improve the overall safety and speed of routine and emergency surveys and inspections of pipelines for gas utilities.
Pictometry has become an acknowledged leader in the research of UAS platforms for use in various applications of remote sensing, including utility and infrastructure inspection work. With the recently awarded contract from Northeast Gas Association, Pictometry will work with NYSEARCH and NUAIR to select potential flight areas and obtain the required authority for each research location by the Federal Aviation Administration (FAA) through NUAIR.
The team will perform ongoing research experimentation in the approved areas utilizing the UAS imaging gas pipeline infrastructure. The research will use a UAS with the system components featuring high-resolution cameras and potentially methane detection devices to enhance pipeline safety. The testing will include flight plan creation, protocol development and effective field implementation.
"The research program came from the interests of NYSEARCH member gas utilities to perform routine inspections and surveys of facilities from an aerial vantage point along with the ability for rapid response in the case of emergency situations," stated Joseph P. Mallia, NYSEARCH/NGA. "With an eye-in-the-sky perspective, we hope to obtain more information and see more so it is safer for our inspectors. It can be dangerous for people during these inspections, especially under bridges and other difficult-to-reach areas. Our members perform inspections regularly and we believe that a well-equipped UAS featuring cameras and methane detectors could introduce an additional effective inspection instrument."
"Pictometry has a strong partnership with NUAIR Alliance and has also recently founded the Property Drone Consortium (PDC)," stated Chris Barrow, CEO and president of EagleView Technology Corporation. "We are focused on the research and eventual creation of UAS platforms that increase safety for numerous industries while capturing high-resolution imagery that can not only produce a large amount of data but can easily fit into current workflows. Creating a total solution from start to finish is the key and the reason this type of research is so essential."
"Gas utility inspections and surveys are critical to safe operation of the pipelines. They involve many trained field technicians, vehicles and instrumentation. If we can use an UAS to capture additional intelligent images and data, it may provide an increased level of information that we can act on for maintaining pipeline integrity," concluded Mallia.