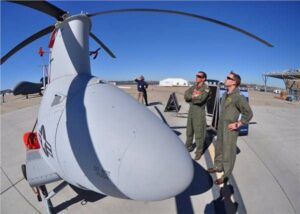 The Center for Naval Aviation Technical Training Unit (CNATTU) North Island has announced that it has received an MQ-8C Fire Scout Vertical Take-off Unmanned Aerial Vehicle (VTUAV) avionics training system, and now offers a full spectrum of Fire Scout maintenance instruction.
CNATTU North Island is the single training center with the capability to train Fire Scout maintainers, and has been providing structural and power plant mechanics with the MQ-8B procedural trainer since April 2013.
"With delivery of our second trainer, the unit will add the capability to provide in-depth avionics troubleshooting, along with test and check procedures," said Chief Aviation Machinist's Mate Dan Singer, CNATTU division chief. "We can now facilitate the entire range of maintenance instruction in repair and upkeep of the MQ-8B."
The avionics trainer has enabled CNATTU to add a two-week MQ-8B avionics course where technicians are provided instruction on characteristics and capabilities while learning primary and subsystems fault isolation and correction. Systems covered include ground control, vibration monitoring, navigation, and Unmanned Aerial Vehicle Common Automatic Recovery System (UCARS).
The MQ-8B Fire Scout aircraft deploy and support the Navy's Littoral Combat Ship missions. The platform significantly contributes to the LCS's primary mission roles of anti-submarine warfare, surface warfare, intelligence, surveillance and reconnaissance (ISR).
"It is an awesome privilege to be associated with these incredibly talented instructors," said Cmdr. Tom Gibbons, CNATTU North Island commanding officer. "We are now on the cutting-edge; providing the fleet maintainer the technical ability required to support this awesome platform."
CNATT Unit North Island instructors share their skipper's enthusiasm for leading the charge in VTUAV maintenance training.
"The Fire Scout is the way of the future and getting everyone up to speed is what we do here at CNATTU," said Aviation Machinist's Mate 2nd Class Sean Watson. "Having the avionics trainer will strengthen our Navy maintenance team."
CNATTU North Island's mission is to develop, deliver and support aviation technical training necessary to meet validated fleet requirements through a continuum of professional and personal growth for Sailors and Marines. Maintenance training includes MQ-8 Fire Scout VTUAV systems, H-60 systems and components, arresting gear and aviation support equipment.