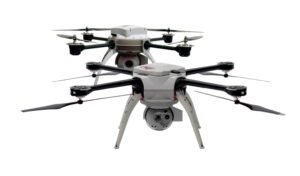 Aeryon Labs Inc., the premier manufacturer of small Unmanned Aerial Systems (sUAS), is the first Vertical Take-Off and Landing (VTOL) sUAS provider to be named in statewide approvals by the Federal Aviation Administration (FAA) for research and public safety applications. Kansas State University Salina (KSU) and the Michigan State Police (MSP) have been granted authority to use Aeryon sUAS throughout their respective states.
As well, the first nationwide FAA Section 333 Exemption approval was recently granted to VDOS Global LLC (VDOS), to use the Aeryon SkyRanger to provide inspection services, on- and offshore throughout the continental US, Alaska and Hawaii.
"A more permissive regulatory environment, in the US and elsewhere, will be a key enabler of commercial UAS applications," said Aeryon Labs President and CEO, Dave Kroetsch. "However, the broad approvals granted to MSP, KSU, and VDOS prove that professional operators, flying safe, aviation-grade systems such as Aeryon SkyRanger, are achieving operational success. As airspace becomes more accessible, it's crucial that UAS manufacturers and operators continue to adhere to high standards of flight control and safety."
With a proven track record of safe and reliable operation, the Aeryon SkyRanger is now permitted to fly within all 83 counties in Michigan State to assist state police with traffic accident reconstruction, search and rescue and other law enforcement operations.
"To receive a state-wide Certificate of Authorization (COA) to use a sUAS is a significant benefit to the MSP and the counties we serve," says F/Lt. Chris Bush, Commander Field Support and Aviation Section, Michigan State Police Special Operations Division. "The Aeryon SkyRanger makes us more efficient in providing our services to the entire State of Michigan."
K-State Salina is now permitted to fly over public or private property (with landowner approval) in the State of Kansas, with its Aeryon Scout sUAS, to conduct research on UAS operating requirements for remote sensing in agriculture and emergency response.
"We have been using the Aeryon Scout as part of our UAS program for the past two years," explained Mark Blanks, K-State Salina's UAS program manager. "Now that we have a COA to operate Scout throughout the state, we are able to investigate UAS operating requirements for agriculture applications and emergency response as conditions change or disasters occur, without the usual wait time needed for COA approval."
An amendment to their FAA Section 333 exemption, to use the Aeryon SkyRanger for inspection of offshore oil rigs, now enables VDOS to perform on- and offshore infrastructure inspections in all 50 states, for their clients in the oil and gas industry. The Aeryon SkyRanger is able to safely acquire high resolution, accurate imagery of flare stacks and other components, which are otherwise difficult, dangerous, and expensive to collect using traditional methods.
"To have approval to operate the Aeryon SkyRanger throughout the US is significant," said Brian Whiteside, President, VDOS Global. "This system is the foundation we offer for both on- and offshore inspection services that are safe and fully compliant with FAA regulations, and meet our customers' requirements regardless of geographic location. The SkyRanger has been the keystone of our Safety Management and Flight Operations that is so critical to our major clients in the oil and gas industry."
While the FAA has recently established an interim policy to speed up airspace authorizations for certain commercial unmanned aircraft (UAS) operators who obtain Section 333 exemptions, the approval given to VDOS enables them to fly above the 200 ft. limit specified in the new 'blanket' COA. The public safety and research applications such as those performed by MSP and KSU remain subject to the COA process, which is also separate from this recent announcement.