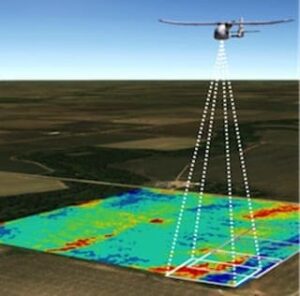 SLANTRANGE, Inc., a drone-based agricultural crop sensor and data analytics company, has announced that it has been selected to present its new technology at the annual SXSW Accelerator Competition. SLANTRANGE will present their business solutions to a panel of hand-picked judges and a live audience at the event, where startups from around the world will be showcasing their new technology innovations.
SLANTRANGE CEO Mike Ritter stated, "We can show the farmer exactly where and what to treat with surgical precision, greatly minimizing the use of pesticides and fertilizer. Our technology is unsurpassed in detecting vast arrays of crop health conditions, uncovering problems invisible to the naked eye and unobtainable from the ground. This means greater yields and healthier crops with use of fewer resources."
Mr. Ritter adds, "Our patent pending technology uniquely adjusts for differing atmospheric conditions, ensuring the accuracy of the information and subsequently making proper treatment decisions. In addition, farmers have access to this information in minutes and without the need for high power computing resources or any network connectivity, which is a huge advance over existing technology and the result of new algorithms we've developed explicitly for agricultural applications. This allows the farmer to address their crop issues accurately and the same day. These two elements are very significant and will fundamentally alter the agriculture industry."
SLANTRANGE's business opportunities extend far beyond the corn and soybean farms of Nebraska (where the technology was developed) to crop and agricultural production processes all over the world. The company is intent on leveraging the opportunities and visibility with their selection by SXSW.