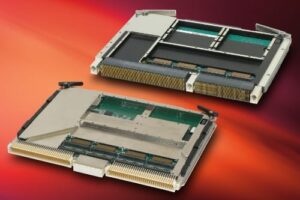 Aitech Defense Systems Inc., a provider of embedded and computing technologies for mission-critical applications, has announced that it has enhanced the C111 and C112, two of its Freescale T4-based single-slot 6U SBCs, to include the new, low power, multi-core, multi-processor T4080 QorIQ with AltiVec technology.
The T4080 processor significantly enhances computing performance and optimizes energy efficiency for lower power, high-end, floating point computing applications. Like the 12-core T4240 and 8-core T4160 also available on the SBCs, the 4-core T4080 QorIQ processor features on-chip high speed L1 and L2 caches as well as an integrated bus, a high speed memory switch fabric and I/O controllers.
Aitech has implemented Freescale's trust architecture 2.0 on the entire T4xxx series of QorIQ processors supported on the C111/C112 that provides secure boot and debug, tamper detection, volatile hash key storage, alternate image and image revocation functionality in addition to secure virtualization and a hardware/software hypervisor. These features address key issues in providing a highly secure processing environment for sensitive data security and supervisory control typically found in manned and unmanned air and ground vehicles.
With their exceptional resistance to thermal shock and mechanical shock and vibration, the 6U VME C111 and 6U VPX C112 SBCs are ideal for use in high-end commercial, rugged industrial and defense applications where board performance and costs can be uniquely tailored to the application.
The new SBCs are equipped with two PMC/XMC sites to support PCI/PCIe for high-speed functions and to expand board functionality. Available in either conduction- and air-cooled versions, the boards can be used in a diverse set of applications, limited only by the imagination of the software developers.
Ideal for legacy VMEbus applications, the C111 supports backplane pin-out compatibility with previous generations of Aitech PowerPC SBCs – including the popular Aitech C102 dual processor SBC – eliminating costly system backplane changes.
The C111's variety of standard I/O interfaces includes four Gigabit Ethernet ports as well as a SATA 2.0 port, dual USB 2.0 ports and two optional, dual-redundant MIL-STD-1553 interface ports, multi-protocol serial ports and multiple discrete I/O lines to enable maximum data storage, inter-system communications and other on-board accommodations.
The C112 supports VPX (VITA 46.0) and OpenVPX (VITA 65) platforms and offers the same I/O as the C111, only more, including up to six Gigabit Ethernet ports, an additional SATA 2.0 port and multiple backplane switch fabric options.
The C111 and C112 each provide 4 GB of high speed DDR3 SDRAM divided into two separate memory channels for efficient processor-to-memory or memory-to-memory message passing and data transfers. Additional memory resources include 256 MB of NOR flash memory, up to 16 GB of Flash disk mass storage and 512 kB of NVRAM (MRAM).
C111 Technical Features:
6U VME 2eSST single-slot SBC
Low-power Freescale QorIQ multicore SoC processor (T4080) with Altivec
4 GB high speed DDR3 SDRAM with ECC
Multiple I/O interfaces: four Gb E; two USB 2.0, one SATA 2.0, 10 serial ports and 16 discrete I/O lines
Multiple I/O interfaces: four Gb E; two USB 2.0, two SATA 2.0, 10 serial
C112 Technical Features:
6U VPX single-slot SBC (VITA 46.0 & VITA 65)
Low-power Freescale QorIQ multicore SoC processor (T4080) with Altivec
4 GB high speed DDR3 SDRAM with ECC
Multiple I/O interfaces: six Gb E; two dual-redundant MIL-STD-1553B, two USB 2.0, two SATA 2.0, 10
serial ports and 16 discrete I/O lines
Multiple switch fabric options – PCIe, 10G, SRIO