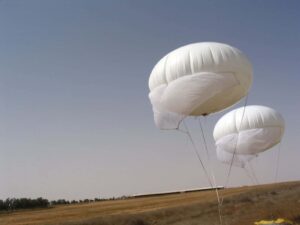 RT LTA Systems Ltd., a designer, developer, and manufacturer of aerostats for ISR and communications applications, has announced its new mini aerostat system, the Skystar 100. The mini balloon system is designed for close surveillance and reconnaissance missions, providing field commanders with real time "over the hill" reconnaissance capability.
The system is compact and robust and can be transported, assembled, launched and operated by two personnel after minimal training. The system has electro-optical payload operational day and night, is backpack or pickup truck transportable, can be assembled and launched in 15 minutes, and has a 1,000 feet surveillance range.
The Skystar 100's Handheld Personal Ground Control Station (PGCS) is a compact unit that can be worn over a protective vest or mounted on a tripod. The Personal Ground Control Station unites a user-friendly software interface with advanced Real-time Control hardware. The PGCS includes an integral Digital Video Recorder (DVR), for recording video and data during the entire mission. Map and video telemetry are displayed simultaneously on a Personal Ground Control Station screen. Navigation capabilities such as point-to-coordinate and hold coordinate as well as manual control modes are integral part of the system.
The system can be used as a relay for other systems such as mini UAVs or ground sensors.
Main parameters and specifications:
Aerostat diameter 12 feet (3.6m)
Operating Altitude up to 1,000 feet
Wind limit 40 knots
Payload weight up to 7 lbs. (3.5kg)
PCS weight 5 lbs. (2.5kg)
Endurance up to 6 hours (until battery replacement)
Major (ret.) Rami Shmueli, RT's CEO, said: "Based on extensive operational experience gained in recent conflicts in Israel and worldwide, we identified the need for an immediate and portable intelligence aerostat system, and we developed the Skystar 100 accordingly. The new system had two main applications; surveillance using day/night gyro stabilized camera and communication using communication relay systems. The Skystar 100 is ideal for military, homeland security, law enforcement operations and search and rescue missions, and I'm sure it will be operational in several locations during 2015."