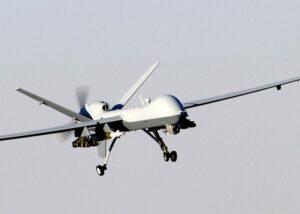 Parliamentary Secretary to the Australian Minister for Defence, Darren Chester, has announced that the Royal Australian Air Force (RAAF) has commenced training aircrew and support staff on United States Air Force (USAF) MQ-9 Reaper Unmanned Aerial System (UAS) operations in the United States.
Mr Chester said that the training program provides a cost effective method to increase the ADF's understanding of complex UAS operations and how this capability can be best used to protect Australian troops on future operations.
"Unmanned aerial systems are an advancing technology with a proven record of providing 'eyes in the sky' in the Middle East region," Mr Chester said.
"It would be remiss of Australia not to continue to develop our knowledge of this technology to ensure we are able to gain the greatest benefit from unmanned aerial systems and the best protection for our troops on future operations."
"For this reason, the RAAF is training personnel in USAF MQ-9 Reaper unmanned aerial system operations in the United States."
Air Force currently has five personnel training to be MQ-9 air vehicle operators and payload operators at Holloman Air Force Base, New Mexico, and a communication systems engineer at Creech Air Force Base, Nevada.