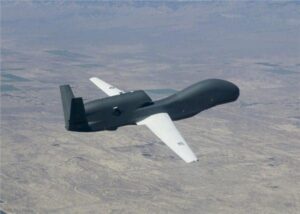 Northrop Grumman Corporation has announced that it will begin production of four RQ-4 Global Hawk unmanned aircraft systems (UAS) for the Republic of Korea's Air Force. The systems will provide valuable wide-area intelligence gathering capabilities to military commanders so they can make more informed decisions.
Under a contract awarded Dec. 16, the company will work closely with the U.S. Air Force to deliver the systems starting in 2018.
"It's clear that U.S. allies have seen the critical role Global Hawk plays for the U.S. Air Force around the world," said Mary Petryszyn, vice president, International, Northrop Grumman Aerospace Systems. "The system will be a vital link in the Republic of Korea's increasing leadership role in defending the peninsula."
The contract is for four aircraft, two ground stations and supporting equipment that allows Republic of Korea Air Force operators to control and maintain the system.
"This is a significant achievement for Northrop Grumman because it represents the first time a Global Hawk has been sold to an allied nation in the Asia-Pacific region under the Foreign Military Sales process," said Mary Petryszyn.
The contract announcement follows significant procurement decisions made by the Japanese and Australian governments to purchase the Global Hawk and the MQ-4C Triton – comprising Northrop Grumman's family of high-altitude, long-endurance UAS.