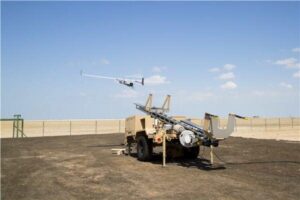 Insitu, a designer and developer of unmanned aircraft systems (UAS), has announced that it has successfully demonstrated its Integrator UAS during the live flight event at IDEX in Abu Dhabi . The two-day live fly took place at the Al Tareef Airstrip, and was held in conjunction with the Unmanned Systems Exhibition and Conference (UMEX). Integrator performed two flights, showcasing key features and capabilities including ease of transport and set up, small footprint launch and recovery systems and its open-architecture ground control application, ICOMC2.
"Our mission is to provide our global customers with the power to make the best decisions," said Suzanne McNamara , Insitu's vice president of business development. "Integrator delivers the endurance and payload flexibility our customers need to save lives, protect assets and successfully complete their mission. We are extremely honored to have the opportunity to demonstrate our tactical multi-INT platform to IDEX visitors."
Insitu's Integrator is a robust aircraft built on more than 10 years of operational experience. The system is modular, flexible and multi-mission capable, with six payload spaces and 40 lbs. of payload capacity. The USMC Program of Record RQ-21A Blackjack (under NAVAIR PMA-263) is a variant of this platform.