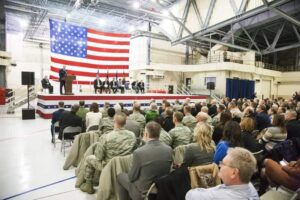 Grand Sky, a 217-acre business and aviation park focused on developing and nurturing the Unmanned Aerial Systems (UAS) industry in North Dakota and the U.S, and America's first such park, has begun to take applications for build-to-suit site tenancy. The U.S. Air Force, Grand Forks County and Grand Sky Development Company have commemorated the execution of an Enhanced Use Lease (EUL) during a ceremony at Grand Forks Air Force Base, therefore officially marking the commencement of the park's development.
Grand Sky is a lease of Air Force property for a period of 50 years. Grand Forks County "owns" the lease on the property with the Air Force. The county awarded a sublease to Grand Sky Development Company for the purpose of developing the project. According to project organizers, this community-led collaboration is a new approach to creating and executing EUL projects. "Grand Sky will be the first commercial drone airport in the U.S.," says Thomas Swoyer, Jr., President of Grand Sky Development Company. "This unprecedented public/private venture between the Air Force, County and the private sector will allow government and private firms to have a home base as they fly their drones in North Dakota and around the country."
Grand Sky is expected to take advantage of the growing unmanned systems or "drone" industry not only for North Dakota, but the entire country. "Investment in Grand Sky will create jobs in the aerospace sector for North Dakota," Swoyer said. "It's a business that isn't subject to fluctuation in commodity pricing. Grand Sky will create hundreds of jobs and attract tens of millions in private investments as we establish a new home base for drones in the U.S."
Backed by a consortium of private equity investors seeking commercial UAS opportunities, Grand Sky is seeking tenants and owner occupants who will engage in UAS testing, evaluation, research, development and operations. Construction on the project is scheduled to begin this spring.