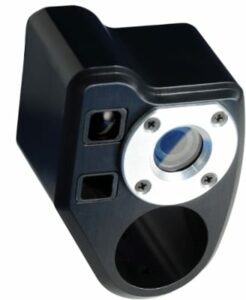 API Technologies Corp., a provider of high-performance RF, microwave, millimeterwave, power, and security solutions, has been awarded a new patent (U.S. Patent No. 8,960,542) for its aiming device for a bomb disarming disrupter. The device is intended for use on unmanned Explosive Ordnance Disposal (EOD) robots.
The Hawk-i™ Video Aiming Device uses a camera and a rangefinder to automatically assess range to target, then generates crosshairs on a video monitor. Bomb technicians then use this targeting guidance to fire a precise shot, which disarms the explosive. Use of the Hawk-i speeds aiming time and decreases chances of misfire due to human error.
The Hawk-i is compatible with all 12-gauge PAN™ Disrupters. Designed for speedy integration, the Hawk-i may be used with virtually all EOD robot platforms. The Hawk-i may also be used in conjunction with API's Cobra Sight™ Laser Aiming Device, which provides additional targeting capabilities.
"We are thrilled to make a product that aids bomb technicians in their mission to keep people safe. That the Hawk-i has played a role in preventing the detonation of explosives, including IEDs, makes us truly proud," said Leonardo Marsala, director and general manager, power solutions, API Technologies. The Hawk-i has received multiple award nominations and has won the Edison Award™ for Product Innovation of the Year.