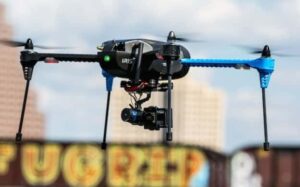 3D Robotics (3DR) has launched its new DroneEDU program, offering free and discounted drone hardware, along with sponsorships, classroom support and partnerships, to assist students, teachers and schools in deploying unmanned aerial vehicles (UAVs) for advanced learning and exploration in STEM disciplines.
"UAV technology can have an incredible impact in scientific study, with real-world applications in solving both historical mysteries and modern global challenges," said Brandon Basso, VP of software engineering at 3DR. "To realize that potential, we want to put UAVs in the hands of the next generation of innovators. This program is designed to provide access to these exciting, engaging and versatile tools for STEM education for students at all levels of education, from grade school through post-graduate study."
3DR has already sponsored several university UAV programs, including Stanford University and the University of California, Berkeley. Both schools have signed on as DroneEDU launch partners.
"Recently 3D Robotics donated hardware to SUAVE, Stanford's UAV Club," said Trent Lukaczyk, of Stanford's Department of Aeronautics and Astronautics (uav.stanford.edu). "The donation included five new DIY quadcopter kits, many batteries, and much needed spare parts. We're using the equipment to grow and upgrade the SUAVE 101 Course: an intro course that mentors students with zero drone experience into an autonomous flying hero."
"Even for college seniors, the task of designing and assembling a functional system in a three-month period is challenging," said Tom Clark, Development Engineer, Mechanical Engineering Department, Cal Berkeley. "With 3DR's donation of a set of quadrotors, as well as continued support from their engineers, our students have been able to spend less time learning about quadrotor technology that is currently on the market, and instead focus on the developing their own applications or hardware that builds on that technology. We are grateful for 3DR's support!"
DroneEDU comprises four components:
Autonomy Unleashed — 3DR will offer hundreds of autopilot sponsorships to educational clubs, organizations, departments, competitions and teams worldwide. Programs in elementary through post-graduate levels can receive up to three autopilots by submitting a proposed use case. Products will ship to qualified applicants as stock becomes available.
Product discounts — Available to college and university professors, program administrators and enrolled students for the purchase a 3DR drone or component technology for classroom or program use. To qualify, applicants must enroll for a discount code with a valid .edu email address from any accredited institution.
Degree-level partnerships and sponsorships — A select number of supported product and beta-testing opportunities for universities offering certifications and advanced degrees in robotics, GIS and other UAV-related fields.
3DR speakers' bureau — Want 3DR's experts to demo or speak at an event? 3DR's technology experts will provide drone demonstrations, keynotes and/or special sessions on integrating UAV technology into new educational fields as availability allows.
DroneEDU participants, programs and initiatives will be showcased on the education section of 3DR's website at www.3dr.com/drones-education. DroneEDU is open to all educators and students in qualifying programs who are interested in exploring educational opportunities through UAV technology, no matter how large or small the project.
"The most exciting thing about the UAV industry is that no one knows exactly how far this technology can take us. The sky is literally the limit," Basso said. "We are keenly interested in working with educators and students in exploring the full potential of this technology to propel science and learning to new heights, opening up new fields of study and assisting in new discoveries that would have been unrealistic or unimaginable before UAV technology."