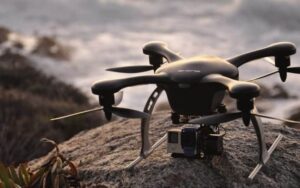 EHANG, a manufacturer of personal drones, has announced that the company has closed $10 million in Series A funding led by GGV Capital. Angel investors in the round are Xiaoping Xu and Nick Yang, two of China's most successful entrepreneurs. PreAngel, a fund focused on early stage startups, is also contributing to the round. EHANG will use this new round of funding to meet demand amassed from its Indiegogo campaign by expanding its team and ramping up manufacturing efforts.
EHANG translates to 'a billion flights', but Derrick Xiong, co-founder of EHANG, sees his company's mission as more personal: "It's not just about creating a billion flights – it's about creating a billion pilots. EHANG was founded on a love of aviation, and it's our mission to make the joy of flight accessible to everyone."
The market opportunity for companies like EHANG is massive; the Teal Group recently announced its prediction that the Unmanned Aerial Vehicles (UAV) industry will experience dynamic growth in the next 10 years, with spending doubling from $2.8 billion in 2014 to $5.6 billion in 2023. Though the majority of spending has been on military drones, 2014 saw a shift toward more consumer drone purchases.
EHANG's Ghost Drone crowdfunding campaign launched on Indiegogo on November 10th with a goal of bringing drone technology to the masses. The company surpassed its $100,000 Indiegogo goal in the first twenty-four hours of the campaign and has raised over $600,000 to date. Due to this strong sustained demand, EHANG has extended its pre-sale campaign to January 9th. The Ghost Drone is available to pre-order for $375 at Indiegogo: https://www.indiegogo.com/projects/ghost-drone-aerial-filming-has-never-been-easier
"The feedback from our community of backers is extremely important to our team, and we have already used it to create a better consumer experience," said Derrick Xiong, co-founder of EHANG. "From how to control the Ghost Drone to crowdsourcing color choices, we wanted to create a product that our users would love."
Unlike other drones, The Ghost Drone does not require any assembly or a separate remote control. It can be controlled by a user-friendly smartphone app, which sends an alert when the battery is low. The Ghost Drone "Auto-follow" feature seamlessly allows the drone to follow the user on an adventure, for example, skiing, hiking or running. Take off, hover, return and land are all pre-programmed on the app. EHANG is the first to unveil the TILT control feature, which allows users to control their Ghost Drones simply by tilting their smartphone. EHANG has tested the Ghost Drone at a variety of concerts, marathons, and sporting events. "These moments are all that really matter to us, and we want to help people capture them and re-live them later."
This $10 million funding round will give the company the opportunity to accelerate growth both in China and the United States: "We are thrilled by the immense support we've received from our backers as well as influential VCs such as GGV Capital. Together, they are helping us take personal drones mainstream."
Earlier this year, GGV Capital closed its fifth fund for $620 million to invest in the US and China. The firm has funded diverse startups, including early investments in Alibaba as well as IoT startups Zepp, Tile and Misfit. The company bridges the US and China markets to give companies a global advantage.
"There are so many potential applications for drone technology – from personal to commercial. We're excited to be working with EHANG, because we love their unique approach to building this technology," said Jenny Lee, Managing Partner at GGV Capital. "They are leveraging mobile apps and unique features to make drones that are easy for everyone to use."
In addition to GGV, EHANG is receiving funding from two of China's foremost angel investors: Xiaoping Xu and Nick Yang. PreAngel has also contributed to the round.