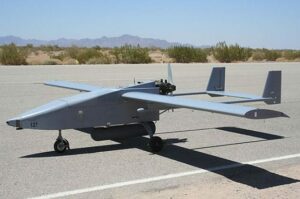 NASC (NAVMAR Applied Sciences Corporation), a supplier of unmanned aerial systems (UASs) and professional engineering services, has announced that it has selected CAE as its preferred simulation and training provider for NASC's TigerShark XP UAS.
CAE is a provider of simulations and training for civil and military aviation. The two companies recently signed a strategic alliance agreement that will see NASC and CAE cooperate to develop a comprehensive training solution for the TigerShark XP, including courseware, next-generation ground control station and simulator, and training support services.
"NASC has had considerable success responding to urgent operational requirements from the U.S. Department of Defense to field unmanned aircraft suitable for a range of reconnaissance and surveillance missions," said Tom Fenerty, President, NASC (NAVMAR Applied Sciences Corporation). "As we continue developing and delivering our TigerShark XP platform, we at NASC recognize that simulation-based aircrew training is the most cost-effective and proficient approach to training aircrew. Skilled, well-trained pilots are critical to overall program success. NASC is proud to have found a long term partner."
The first phase of the strategic alliance agreement will see NASC and CAE in collaboration on enhancements to the ground control station (GCS) for the TigerShark XP UAS. The next-generation GCS will also serve as a high-fidelity simulator to be used for training TigerShark XP UAS pilots and sensor operators. NASC and CAE will also explore market opportunities for potentially developing UAS training centers.
"We are delighted that NASC has selected CAE as their simulation and training partner for the TigerShark XP and future unmanned aerial systems they may develop," said Ray Duquette, President and General Manager, CAE USA. "The use of unmanned systems for both defense and commercial applications will continue to grow so training aircrews how to safely operate these vehicles will become increasingly important. Simulation-based training has proven itself to be ideal for enhancing safety, proficiency and readiness when preparing aircrews."