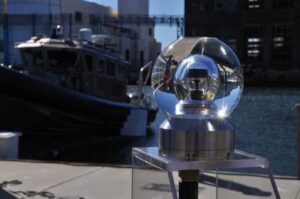 Battelle, an applied science and technology development company, has integrated its HorizonVue undersea camera with a Remotely Operated Vehicle (ROV) as part of a demo in the Quincy Shipyard, home of Battelle's Bluefin Robotics.
The new camera allowed operators to see the harbor floor and a nearby hull and to navigate through submerged pilings using a 360-degree live video feed. The instrument can operate at the ocean's surface or down to depths of 4,500 meters, withstanding pressure of 6,575 pounds per square inch.
Intended for use by Work Class ROV operators, and the subsea oil and gas industries, the camera provides enhanced situational awareness in areas where keeping track of multiple objects simultaneously is critical. Current technologies rely on multiple cameras that capture images that must then be "stitched together," or have to leave portions of the workspace out of the field of view. This multiple camera solution leaves the vehicle vulnerable to collisions, or damage to equipment that is costly and difficult to replace.
The HorizonVue™ M360 Deep greatly reduces the time, effort and expense needed to work in crowded, complex undersea environments. The cameras, which are available for new demonstrations, can be easily retrofitted on vehicles currently in use or incorporated into newly built platforms using the COTS connector of choice. It can replace multiple cameras with one device that is lighter, uses less power and has no moving parts.