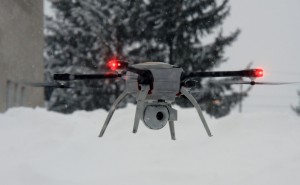 Aeryon Labs Inc. has announced that Unmanned Experts (UMEX) plans to use the Aeryon SkyRanger, in addition to the Aeryon Scout, to investigate and evaluate the benefits of sUAS technology in a number of police and fire service applications.
UMEX has been operating under a cooperative agreement with the U.S. Department of Justice, National Institute of Justice (DOJ NIJ1) to investigate the effectiveness of sUAS in expediting accident scene clearance. The ability to use sUAS to clear accident scenes holds many potential benefits for law enforcement agencies and the general public, including:
• Improved public and officer safety from reduced secondary incidents
• Reduced on-scene hours with bottom-line savings for public safety agencies
• Improved personal productivity for motorists from quicker clearance of traffic jams
UMEX chose this research topic because of its compelling business case to reduce the costs associated with traffic accidents and the ability to help accelerate public safety agencies' adoption of sUAS.
After successful trials and demonstrations with the Aeryon Scout sUAS, UMEX has received approval from the NIJ to include the Aeryon SkyRanger as another resource tool to expand their research and evaluation capabilities.
"The Aeryon Scout has proven to be the 'go to' system for ease of training, transportability, rapid deployment and mission execution," explained Keven Gambold, CEO, Unmanned Experts. "The Scout's optic quality and pixel density support the project's research goals and we look forward to using the SkyRanger to leverage the integrated networking capabilities built into all Aeryon aircraft.
UMEX is actively exploring ways to extend their current research and to evaluate the use of sUAS in a variety of other public safety applications including, forensics and situational awareness (for incidents larger than accident scenes), search-and-rescue, as well as fire and HAZMAT response.
"We designed the Aeryon SkyRanger based on lessons learned from the Aeryon Scout" commented Dave Kroetsch, Aeyron's President & CEO. "The added value of deploying both sUAS ensures even stronger results for the UMEX team. The research data they are collecting helps to validate the benefits of sUAS technology and accelerates the adoption process by public safety organizations".