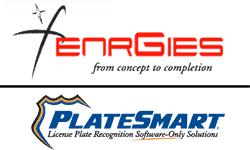 PlateSmart Technologies, a provider of License Plate Recognition (LPR) solutions and video data analytics, has announced a partnership with defense systems integrator enrGies of Huntsville, Alabama. The two companies have successfully tested and are working to perfect the first LPR and video analytics technology for Unmanned Aerial Vehicles (UAVs) to assist security agencies and military personnel in combatting crime and terrorism.
This partnership marks the first time such collaboration has taken place, as until now, LPR and its attendant analytic functions have been unavailable on UAVs. It is PlateSmart's unique software-only approach to the technology, which supports high-definition video without requiring bulky processing hardware, which makes this revolutionary development possible. It is the latest in a year of firsts for PlateSmart, which earlier this year teamed with Samsung Techwin to introduce the first line of surveillance cameras with true built-in LPR capability.
PlateSmart CEO John Chigos, long recognized as an expert in the field of LPR and video data analytics applications, believes that "a relationship such as that between PlateSmart and enrGies is a vital step in protecting both the U.S. and its allies from the actions of international and domestic terrorists." Mr. Chigos further expressed his thanks to Steve Pierce, enrGies' President and CEO, stating, "Mr. Pierce and I have teamed to develop quickly deployable UAV systems that can extract and analyze mission-critical data in real time with the goal of providing additional methodologies of identifying criminal and terrorist activities. We both feel that this is a technology that is indispensable to our security."
"enrGies is enthusiastic about the strategic relationship with PlateSmart and has great respect for their quality and commitment to using industry standard protocols," Mr. Pierce stated. "enrGies' experience with UAV operations and payload integration makes this a highly effective blend of capabilities." enrGies has engineered custom payloads and capabilities for government and commercial clients for over 5 years and is known as the "go to company" for challenging solutions. "Leveraging the capabilities of small UAVs inside the United States is important for our domestic security and provides an additional tool for law enforcement and security professionals," asserts Mr Pierce.