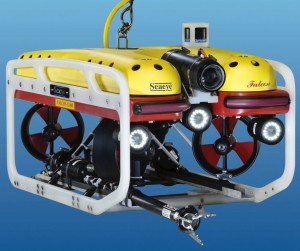 FMV, the Swedish Defence Material Administration, has ordered ten Falcon ROVs from Saab Seaeye. The vehicle was judged by FMV to be the best underwater vehicle of its class for the Swedish Navy's purposes for performance and price.
The contract is the biggest single order placed for the Falcon so far and follows orders from several other navies around the world this year.
Defence and security forces in many countries deploy the Falcon, which is also used extensively in the energy and hydro industries and in marine science.
The Falcon's winning formula comes from combining intelligent control, thruster power and precise manoeuvrability into a small vehicle so it can operate sensors, tooling and complex systems typically found on much larger ROVs.
Easily manhandled into the water, it has five powerful thrusters that can operate in strong currents with precise control.
Its intelligent architecture means each device on the vehicle can have its own microprocessor for individual control and systems can be easily changed or added.
As a module-focussed concept, the Falcon generates automatic diagnostics on power-up to ensure each device is fully interfaced and working correctly.
The Swedish Navy's model will have an enhanced surface control system for advanced operator control.