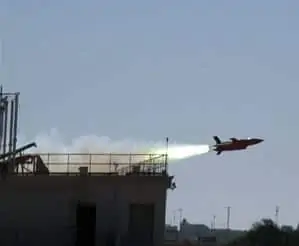 Kratos Defense & Security Solutions, Inc. has announced that its Unmanned Systems Division (USD) has successfully completed its first U.S. Navy flight test for its BQM-177A Subsonic Aerial Target (SSAT) Unmanned Aerial Drone System. The successful flight test was the first in a series to be performed by Kratos under the program's DTB1 (Developmental Testing, Series 1) flight test campaign. The SSAT Program is being managed by the Naval Air Systems Command (NAVAIR) Aerial Target and Decoy Systems Program Office (PMA-208).
The SSAT Program is designed to meet the U.S. Navy's requirements for a new High Fidelity Target to replicate subsonic anti-ship cruise missile threats in direct support of fleet training and weapon system testing and evaluation. The BQM-177A will initially augment, and will eventually replace, the existing BQM-74E and BQM-34S Firebee Targets and will deliver longer range, lower cruise altitudes and greater maneuverability.
The first DTB1 flight test was completed on September 29, 2014 at the Naval Air Warfare Center Weapons Division's Sea Range, Point Mugu, California. The flight test was the first of five DTB1 flight tests planned through 2015.
The BQM-177A is based on Kratos' BQM-167X Aircraft, a derivative of the BQM-167A Skeeter Target currently being supplied to the U.S. Air Force. While leveraging legacy designs of the BQM-167A, the BQM-177A introduces a new fuselage with area ruling, high mounted wings and an internally integrated MicroTurbo TR-60-5+ turbo jet engine for reduced transonic drag. The BQM-177A can support various mission requirements by carrying a variety of internal and wing tip mounted payloads, including electronic counter measures, active and passive radar augmentation, infrared, identification friend or foe, internal chaff and flare dispensing, threat emitter simulators, smoke and scoring.
Jerry Beaman, President of Kratos' Unmanned Systems Division, said, "The successful DTB1 flight test is a major milestone for Kratos in one of our Company's most important programs. Kratos is making a significant investment in the SSAT platform along with our U.S. Navy partner. We are working very closely together in the successful execution of this program, and we are looking forward to continued progress as we work toward full rate production of this unmanned aerial target drone platform."