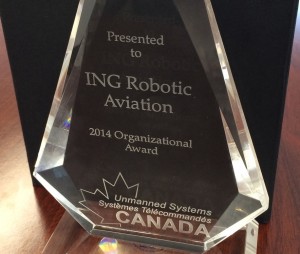 ING Robotic Aviation, a provider of robotic aircraft airborne sensing solutions headquartered in Ottawa, Canada, has announced that the company is the 2014 winner of the Unmanned Systems Canada Organizational Achievement Award. This prestigious award is given by Unmanned Systems Canada, the national association, and was presented to the company at its Annual Gala Awards Banquet on Thursday, November 6th, 2014.
The major reasons for granting this award to ING Robotic Aviation were its extensive and varied operational experience, its successful pivot from the military to the commercial sector and its track record of leadership in the field (including regulatory reform and public awareness).
The Organizational Achievement Award is given each year to the one organization that has achieved the most and made the biggest difference in the unmanned systems sector in Canada. Previous winners have included significant organizations such as Transport Canada and the National Aeronautics and Space Administration (NASA).
"We are honoured to have received this award for our achievements in delivering airborne sensing solutions," states ING Robotic Aviation's owner and CEO, Mr. Ian Glenn. "This award is a testament to a lot of hard and creative work by everyone in our company, including those focused on technology, operations and in the backroom. We are truly reinventing aviation."