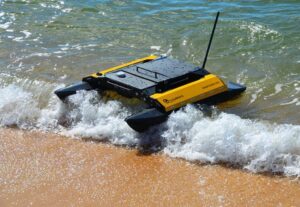 Clearpath Robotics has been announced a winner of the 2014 Game Changer Awards for its Kingfisher unmanned surface vessel at RoboBusiness – a leading business development event for the global robotics market.
The Game Changer Awards are produced by Robotics Business Review to honor remarkable technical accomplishments and makers within the robotics industry around the world. Winners were selected by a panel of judges, including Robotics Business Review editors, technology experts from the International Journal of Advanced Robotic Systems and authorities from the investment community. Judges rated products based on the following criteria: standout attributes, design, functionality, benefit to robotics and impact within its primary application area.
"We're thrilled that Kingfisher USV has been recognized with a Game Changer Award," said Julian Ware, General Manager for Research Products at Clearpath Robotics. It is an honor to be distinguished in the same company as the other winning, leading robotics institutions."
Following is the full listing of winners for the 2014 Game Changer Awards:
Autonomous Navigation: Kairos Autonomi's Uomo
Data Collection Platform: Clearpath Robotics' Kingfisher Unmanned Surface Vessel
Domestic Automation: iRobot Scooba 450 Floor Scrubbing Robot
Education: Rethink Robotics' Baxter Research Robot
Gripper: Grabit, Inc's Grabit 2518 and 2536 Grippers
Industrial Productivity: Andrew Alliance's Andrew Automated Pipetting Robot
NextGen Game Changer: Harvard University's Mobility Enhancing Soft Robotic Exosuit
"Game Changers is an awards program for robotics visionaries," says Tom Green, Editor in Chief, Robotics Business Review. "These winners represent products leading the way in critical technology categories. Long after the award presentation, Game Changer Award winners remain in the public eye, as they should."
Kingfisher Unmanned Surface Vessel is an agile, battery operated robot boat designed for research and rapid prototyping. Fully equipped with a sensor station, an onboard Atom PC, electric thrusters, GPS, wifi radio, and semi-planing hulls, Kingfisher serves as a marine research platform as well as a remote survey system for bathymetric and hydrometric data collection. Kingfisher includes advanced payload capabilities, easy stow and portability, and can be easily customized to meet research requirements. The easy-to-use and robust design has made it a favorite among researchers and industry specialists alike.
Winners of Robobusiness awards are profiled online at RoboBusiness.com and Robotics Business Review.com, reaching a global audience of more than 36,000 robotics enthusiasts. Both winners and finalists can be viewed online at http://www.roboticsbusinessreview.com/gc.
This is the second year that Clearpath Robotics has been recognized for technological innovation after winning the Game Changer Award in 2013 for Grizzly Robotic Utility Vehicle.