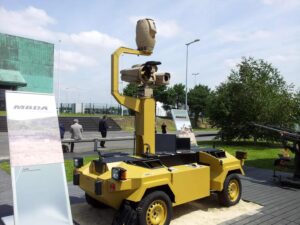 HGH Infrared Systems has demonstrated its Spynel thermal imaging system at the Eurosatory 2014 exhibition. The system was installed onto a Robbox UGV for a demonstration of effective and fast air target detection. Spynel and a PTZ camera worked in tandem, with the Spynel successfully detecting and tracking all aircrafts approaching the Charles de Gaulle airport in Paris, France, queuing the PTZ camera for further identification. The Spynel model used for the event, the Spynel-S 6000, is able to detect and track an unlimited number of aircraft at up to 11 km.
The Robbox, presented by Nexter Robotics and SERA engineering group of France, can withstand a payload of up to 880lbs and can serve a variety of purposes, including logistical support for deployed soldiers to limit their carrying loads. When paired with the Spynel panoramic infrared thermal imaging camera, Robbox becomes a fully operational mobile reconnaissance vehicle with 360 degree surveillance of land and air targets.
Spynel can be added as an additional layer of capabilities already in place as seen with the integration with Robbox or can be reliably used as a cost-effective standalone perimeter security solution. Spynel captures full HD, panoramic images of an entire surrounding in near real-time with automatic intrusion detection and tracking capabilities with a resolution of up to 120 Mpix. Compact as well as easy to deploy, Spynel can provide full situational awareness and surveillance of land, air, and maritime targets for a variety applications such as: airports, critical infrastructures, border and coastal protection, ports and forward operating base protection.
The Spynel coupled together with the Robbox UGV aim to reduce soldier fatigue and increase responsiveness in combat by ensuring a rugged and autonomous vehicle equipped to withstand difficult terrains and persistent and automatic perimeter surveillance. HGH Infrared Systems has an active and growing network of partners established in order to continue providing solutions tailored towards keeping service members safe.