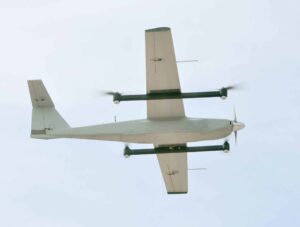 Arcturus UAV, a California-based manufacturer of unmanned aerial vehicle airframes and systems, has unveiled JUMP – an innovative system that adds vertical take-off and landing (VTOL) capability to its fixed wing UAV platforms.
The JUMP system has been applied to the company's T-16 and T-20 fixed wing UAVs, providing additional precision vertical take-off and landing capabilities and eliminating the requirement for runways. A full demonstration of the operation and transition from VTOL to winged flight is shown below:
VTOL capability is achieved via the addition of vertical lift motors and rotors, mounted on booms fixed to the underside of the aircraft wings. Once the transition from take-off to winged flight is complete, the motors are shut off with the propeller blades feathered longitudinally for minimal drag during flight.
Flight control is completely autonomous, provided by the Piccolo integrated autopilot system which incorporates Latitude Engineering's Hybrid Quadrotor technology.
Unmanned aerial vehicles fitted with JUMP technology require no runways for either take-off or landing. No special launch equipment is needed and the whole system can be made ready for operation in only 15 minutes. Only two technicians are required for transportation and operation.
JUMP technology adds the versatility of a vertical take-off and landing quadcopter platform to the higher payload capacity and greater range of an existing fixed-wing UAV family.
For more information click here.