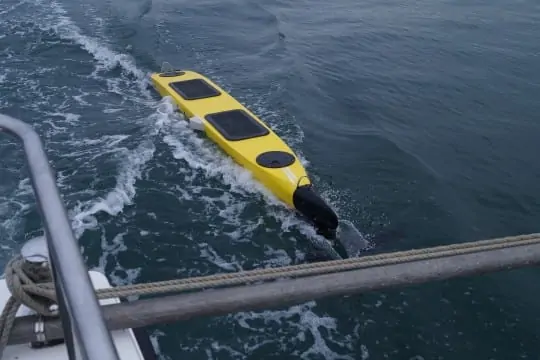 AutoNaut, a unique wave-powered Unmanned Surface Vessel (USV), will be unveiled at Oceanology International 2014, which will be held from 11-13 March 2014.
Following recent sea trials off Oban in Scotland, founder directors David Maclean and Mike Poole will be on hand at Oceanology International (OI) to explain the USV's potential and answer questions.
"It will be a great moment to show AutoNaut to the world," said David Maclean. "Interest until now has come through the industry grape vine. We have made our first sale, for delivery in March during OI. We are working with a range of other industry 'early adopters' to build boats to meet their specific needs.
"We are finding a wide range of needs requiring boats from 1m to 5m with an even wider range of sensors. After a year of intensive development we are ready to launch into the new markets made possible by AutoNaut's unique capabilities."
The AutoNaut USV has been built for the 'Long Endurance Marine Unmanned Surface Vehicle' (LEMUSV) competitive project, run by the National Oceanography Centre (NOC), with input from the MoD through dstl, as well as the National Environment Research Council, and Small Business Research Initiative.
AutoNaut represents a new level of capability for very long endurance ocean research and data gathering.
For more information visit: http://www.autonautusv.com/