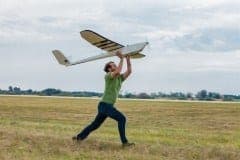 Woolpert, a national geospatial, architecture and infrastructure firm headquartered in Dayton, announced it has conducted an unmanned aerial system (UAS) joint test flight at Wilmington Air Park with the U.S. Army Corps of Engineers (USACE) Mobile District. The test was conducted to determine the viability of using Woolpert's Altavian Nova Block II unmanned aerial system (UAS) accompanied by a metric camera system for upcoming USACE Mobile District mapping projects.
The USACE Mobile District has partnered with Woolpert to use the larger UAS because it is more stable and, accompanied with the metric camera system, allows for repeatable, calibrated performance which results in high-resolution data and more accurate imagery.
"Using an accurate, high-resolution metric camera system with a UAV, we can continue to explore the many applications and benefits of unmanned aerial technology," said Clint Padgett, USACE Mobile District.
Despite the FAA's recent announcement of its six UAS test sites, which did not include Ohio in its selection, the USACE Mobile District will continue to work with Woolpert to further develop operational concepts for upcoming 2014 UAS data collection efforts.
"The Dayton Development Coalition sees UAS as an industry with high growth potential. The entire Dayton Region is positioned to capitalize on future opportunities regardless of the FAA designation," said Jeff Hoagland, President & CEO, Dayton Development Coalition. "Woolpert and other DDC members are poised to benefit."
Through its partnership with Sinclair Community College, Woolpert was able to conduct the test flight using Sinclair's Certificate of Authorization (COA) granted by the FAA. A COA is currently required in order for organizations to operate a UAV until the FAA opens the air space for commercial use of UAVs.
The recent test flight was a necessary step in USACE Mobile District's plans to continue to lead growth of domestic UAS technology use for science applications and reliable, safe and efficient data creation.