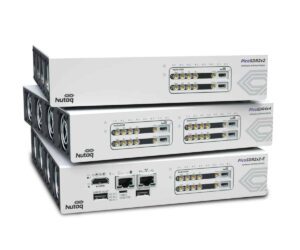 Nutaq's PicoSDR software defined radio platform has been chosen by French Equipex FIT/CorteXlab for their large scale cognitive radio testbed developed by Inria at INSA-Lyon.
The goal of the testbed, which consists of dozens of radio nodes, is to help researchers around the world in deploying and testing cognitive radio protocols. These wireless protocols are viewed as a key enabler of the "internet of things", which aims to wirelessly connect tens of billions of devices by 2020.
"Nutaq's PicoSDR will enable CorteXlab users to prototype highly computational PHY layers such as wideband MIMO OFDM and to design cooperative transmission techniques in a multi-node real time environment with perfect interference control," said Jean-Marie Gorce, heading the CorteXlab project.
"Having Nutaq's PicoSDR platform chosen by CorteXlab to help build this massive cognitive radio testbed reaffirms our decision to create solutions that meet the needs of the cognitive radio community," said Martin Turgeon, Product Line Manager at Nutaq.
"The PicoSDR platform will not only allow researchers to improve wireless communication system performance, but will also allow the CorteXlab team to seamlessly upgrade the testbed to meet the technology evolution, in an easy, cost-effective manner."
Further details can be found on Nutaq's website