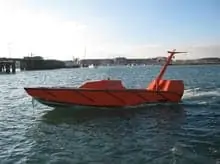 Autonomous Surface Vehicles (ASV) Ltd has successfully completed phase one of a two phase C-Target 9 programme with South Korea. The highly manoeuvrable, ultra realistic, high speed marine target drones will be used in the test and evaluation of a new weapon system.
In early 2013, Korean company GigaRF looked to ASV to provide four 9 metre target drones for the Agency of Defence Development (ADD). ASV has worked closely with GigaRF to ensure the timely delivery of the first two vehicles. Phase one was completed on the 17th October with the first two boats carrying out acceptance tests at ASV's site in Portchester, UK, with GigaRF and ADD in attendance.
Construction of the phase two marine target drones is already underway and will be completed in early 2014.
ASV has built over 25 target drones to date for a range of UK and International customers. The C-Targets which range from 3 metres to 13 metres are designed for training naval personnel to combat the threat of Fast Inshore Attack Craft (FIAC) and evaluating new weapon systems and doctrine. The drones, which can reach speeds of up to 60 knots, can be operated in both manned and unmanned modes and can be customised to meet requirements for visual, thermal and radar signature.
To find out more about ASV's complete line of unmanned marine systems please visit their profile page.