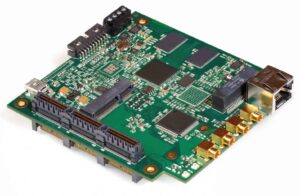 Advanced Micro Peripherals (AMP) has announced its new StreamCorder board pair – the StreamCorder-SD4 and the StreamCorder-HD.
Both boards are standalone, intelligent streaming and recording solutions that accept video inputs for real time H.264 compression, local storage and streaming over 100/1000 MBit Ethernet. The StreamCorder-SD4 has four NTSC/PAL/RS-170 inputs, while the StreamCorder-HD's input is a single HD-SDI channel at up to 1080p30. Both StreamCorder products are ideal for demanding applications within Military, Communications, Transportation, Mining and Energy industries.
The StreamCorder-HD supports extraction of KLV (MSB 0605.3 compliant) data and stereo audio embedded within the HD-SDI source. Both data and audio can be synchronized and streamed with the compressed video. The StreamCorder-SD4 features a dedicated hardware compression engine which can record all four video channels at full size and full frame-rate. A flexible streaming engine then streams each channel direct from the on-board Ethernet port. It can also capture audio from all four video inputs for streaming within the Ethernet output. Both boards can also save compressed data directly to an on-board SD card or external USB storage.
Both boards are designed for mobile, UAS and Vetronix applications, and both have optional on-board features including Controller Area Network (CAN), 3-Axis Accelerometer, High Sensitivity GPS Receiver, Altimeter and 3-Axis Digital Magnetometer (e-compass). These can integrate with other vehicle systems, and their outputs can be used as metadata embedded within the video and streamed to clients or saved locally for later analysis.
With their own built-in standalone intelligence, the StreamCorders do not require a host CPU, or any driver or OS software. For mechanical convenience the StreamCorders can be mounted on a PCIe104 form factor stack without consuming host CPU resources. Other features include an RS-485 port for PTZ control, USB 2.0 OTG support for extended local storage and a miniPCIe slot for WiFi or 4G Modem communications. The boards are operating system neutral and operate at low power for long operational endurance. Extended Temperature (-40˚C to +85˚C) versions are available.
"AMP's two StreamCorder products greatly simplify life for systems engineers who must capture, record, analyze or distribute these video signals and their embedded data" commented Lee Foss, CEO of Advanced Micro Peripherals, "There aren't any integration delays or issues since the boards are intelligent and operate as standalone devices. Their PCIe104 mechanical form factor also contributes to their ease of installation."
"Their ruggedisation, low power consumption and extended temperature options equip them excellently for a wide range of applications where limited space and harsh environmental conditions are the norm. Examples include UAV and ROV unmanned vehicles, rugged aviation and marine video recorders, Situation Awareness, remote video surveillance, border security, traffic monitoring and control, video acquisition and analytics, and solid state multi-channel video and senor recorders. The StreamCorder-SD4 is also particularly suitable for rapid deployment within such applications, while the HD model excels at industrial surveillance and aerial observation of large areas."