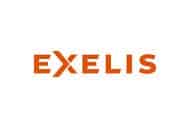 Exelis will showcase industry-leading defense and security technologies at the 2013 DSEI Conference at the ExCel London Exhibition and Convention Centre in London on Sept. 10-13.
Exelis will exhibit its ready-now, affordable technology solutions for military, government and commercial customers involved in land, air, naval security and unmanned aerial systems missions around the world.
"As a leading global forum for the defense and security industry, DSEI is a key conference that allows some of the most innovative companies in the world to showcase battlefield and security capabilities among key customers," said Bob Durbin, senior vice president of strategy and government relations at Exelis. "Exelis solutions have a global reputation for reliability, innovation and affordability, supporting in-theater missions and actionable intelligence for command and security users."
Exelis capabilities that will be highlighted focus on geospatial intelligence, networked communications and situational awareness, including:
Integrated Protection and Transmission Systems (iProTxS) – A small, lightweight technology that enables uninterrupted communications between combat network radios despite nearby jamming signals, without compromising network security. It can be quickly integrated with existing radios and electronic countermeasure equipment on both mounted and dismounted platforms.
SpearNet tactical radio and Tactical Mobility Night Vision Goggle (TM-NVG) – An integrated soldier system available to international customers that combines the compact and secure wideband data network of the SpearNet radio with the lightweight, monocular goggle that incorporates Generation 3 night vision technology (e.g., photo/video export, color display, GPS information, etc.) for a system that creates advanced situational awareness in low light and other challenging conditions.
Enhanced High Capacity Data Radio (EnHCDR) – A networked radio that provides high bandwidth data and can simultaneously support voice and data with full motion video. Through exchange with other networks, LANS and data terminals through open standard IP protocols, EnHCDR is a self-managing radio network that increases decision-making and pace of operation without compromising range.
To learn more about Exelis or to participate in technology demonstrations, visit U.K. Pavilion, Stand S5-180 at the conference.