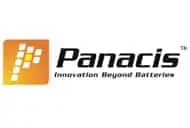 Designers and manufacturers of advanced, lithium powerpack systems for the defense and aerospace markets, Panacis Inc, has been granted a patent by the U.S. Patent Office for a Battery Connection Failure Detection System. Panacis' experience with high power battery systems in the areas of aerospace, engine starting, and ground vehicles led to the development of an innovative method to detect if the electrical connections internal to the battery were secure.
Steve Carkner, Founder and Chief Technology Officer, explains that, "A significant number of industry battery safety issues have been traced to poor or damaged connections internal to the battery. Conventional battery management systems only measure the temperature of the cells within the battery but ignore other areas of potential failure. This patent recognizes the unique nature of Panacis' measurement technique for detecting the degradation of connection points within the battery long before they become a safety issue."
The technology can be applied across all battery technologies, including any high power battery systems such as electric vehicles and aircraft.