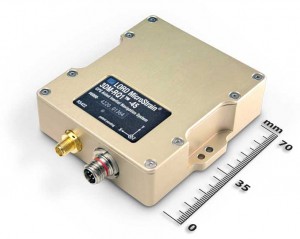 LORD MicroStrain Sensing Systems, a global leader in developing embedded sensing systems for aerospace and industrial markets, has introduced its new tactical grade GPS-Aided Inertial Navigation System (GPS/INS): 3DM-RQ1™ -45.
Designed to meet DO-160, the 3DM-RQ1™ -45 provides cost-effective ruggedized airborne navigation with 5°/hourgyro bias stability. Additionally, the innovative MEMS architecture achieves tactical-grade performance with the smallest and lightest package in its class.
The new 3DM-RQ1™ -45 GPS/INS is built on the MIP™ protocol, LORD MicroStrain's standard inertial data architecture. With MIP™ users access a robust communication standard that ensures efficient long-term development, maximum versatility, and full forward compatibility.
"The 3DM-RQ1™ -45's unique combination of performance, size and affordability makes it ideal for primary and/or secondary navigation systems, platform stabilization, antenna pointing, or unmanned systems," said Michael Robinson, Manager, Sensing Systems Sales for LORD MicroStrain. "High-performance MEMS combined with rigorous calibration and sophisticated onboard estimation filtering allows LORD MicroStrain to offer tactical capabilities to markets that demand precision, but are sensitive to additional weight and integration costs. The new 3DM-RQ1™ -45 achieves airborne ruggedness in a miniature package that is 23mm tall and weighs only 205 grams. We look forward to working with customers to implement this flexible sensing solution at leading edge of unmanned applications."