Featured at AUVSI 2013: Corsair Engineering's UAS trainer meeting the needs for training future crews of unmanned systems for military and commercial use.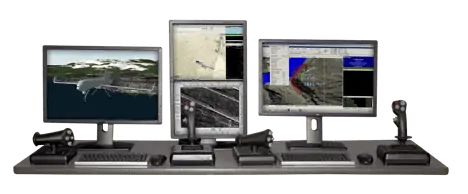 Readying students to meet the demand for workers in the unmanned systems industry, Indiana State University (ISU) recently acquired two new UAS Training Systems from Corsair Engineering.
ISU acquired the newest release of the IM3PUT (Integrated Multi-Mission Multi-platform UAS Trainer) system to provide realistic learning and training experiences for students preparing for careers in unmanned systems. The IM3PUT system is capable of simulating a variety of generic and OEM UAS platforms on a single machine. The two-crew configuration allows students to practice piloting and sensor operations as well as crew-coordination simultaneously on a single machine. IM3PUT systems may be connected over a network allowing multiple simulated unmanned aircraft to be put into scenarios with common terrain and entities for larger scale mission and coordination exercises. The simulator also allows for additional unmanned systems, such as ground and underwater-unmanned vehicles to be added.
The new IM3PUT simulators provide students the ability to practice a myriad of UAS operational concepts including: manual and auto flight operations, sensor operation and management, crew management, communications, emergency procedures, and airspace coordination before being exposed to a specific UAS platform.
Meeting the requests of users, Corsair Engineering has also designed the new IM3PUT systems to be used at various locations. One of the systems delivered to ISU will have custom cases built for portability.
The addition of the new IM3PUT trainer, and upgrade to the existing trainer, will enhance both training throughput as well as overall training capability. "Corsair is proud to be a part of the ISU training system," says Brant Bond, Corsair Engineering's VP of Training and Simulation. "We worked together to understand the training requirements and have developed a highly-capable, low cost device that will help train ISU students and prepare them for future UAS operations. The IM3PUT device's proven capability, reliability and cost-effectiveness make it a valuable part of any UAS training system."
Corsair Engineering will have the new IM3PUT system on display and available to test at the upcoming AUVSI 2013 Unmanned Systems North America at the Walter E. Washington Convention Center, Washington D.C., August 12-15, 2013. Visit Corsair Engineering at Booth 3718.
Corsair Engineering is a veteran-owned small business providing government and industry customers with quality high-fidelity training systems supporting engineering and logistics services. Corsair designs, develops, and delivers cost effective integrated human performance solutions that result in measurable value and productivity improvement. "Doing the Right Thing" is the focus of all of Corsair's efforts.
AUVSI's Unmanned Systems North America is the premier forum for reviewing, assessing and discussing the current state of the unmanned systems market. The event brings together the key leaders and decision-makers in the industry. Officials from government and user organizations around the world attend and participate in the symposium program.