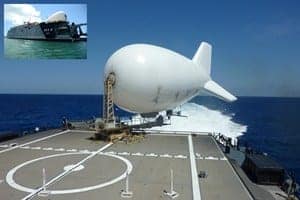 Raven Aerostar recently concluded a successful maritime operation in response to an urgent requirement from the Commander, U.S. Navy South (Mayport, Fla.) for a maritime persistent surveillance solution aimed at enhancing security in the Caribbean Basin.
Quickly meeting the requirements provided by U.S. Navy South, Raven Aerostar deployed a turnkey Maritime Persistent Surveillance Solution featuring a Raven Aerostar Tethered Aerostat System integrated with a state-of-the-art Vista Smart Sensing Radar System, a General Dynamics electro-optic/infrared (EO/IR) camera, and a data link aboard the High-Speed Vessel – SWIFT (HSV-2). Departing from Key West, Fla. onboard the flight deck of the HSV-2, Raven Aerostar's Maritime Persistent Surveillance Solution was deployed to support U.S. Southern Command's international effort to provide surveillance in the Caribbean Sea. This successful operation builds on the continued international engagement of Raven Aerostar, and their wholly owned subsidiary, Vista Research, providing cost effective, persistent surveillance solutions that leverage tethered aerostats integrated with radars and other surveillance capabilities to enhance regional security in both land and maritime environments.
Raven Aerostar's flight operations team boarded the HSV-2 mid-April and operated the Maritime Persistent Surveillance Solution for the month-long mission. Raven Aerostar has a long history of successfully deploying and operating integrated aerostat solutions for both land and sea operations. Raven Aerostar has designed, developed and delivered Lighter-Than-Air (LTA) platforms and surveillance equipment, including radar systems and high altitude balloons for the U.S. government and noted research institutions. In 2010, Raven Aerostar was awarded for its outstanding service, unwavering commitment and tireless dedication as a supplier of vital tethered aerostats under Operation Enduring Freedom for force protection in Afghanistan.
"The experience gained deploying our aerostats and radars in the harsh environment in Afghanistan has proven valuable in the accomplishment of the HSV-2 mission," said Craig Laws, program manager for Raven Aerostar. "Though the challenges were different, the robust design of the aerostat, coupled with the experience of the flight operations team, proved capable of supporting critical operations despite rough seas and strong winds. The HSV-2 pulled the aerostat over 3,000 nautical miles during the course of downrange operations, topping out at a ship speed of 28 knots."
Raven Aerostar's Maritime Persistent Surveillance Solution can be sized appropriately to fit specific missions and can be paired with other complementary surveillance solutions. During this month-long demonstration, Raven Aerostar proved the mission flexibility of their solution, flying the aerostat at 2,000 feet above ground level (AGL) from the HSV-2 without any alteration to the sea frame. The flight elevation of the aerostat increases the line of sight (LOS) performance of the Vista radar and any sensor integrated with the aerostat, providing increased detection, recognition and identification capabilities.
"The Aerostar aerostat system is a proven technology providing key situational awareness in a given area through its radar and EO/IR payloads," stated Ted J. Venable, CN Program Manager/Unmanned Aircraft Systems Commander U.S. Naval Forces, Southern Command Commander, U.S. FOURTH Fleet. "By incorporating this system on a moving vessel, it provided a broad picture of the surface and air traffic around the HSV SWIFT. This paid big dividends in extending the range of onboard systems on HSV SWIFT. The entire team of participants in this effort gained valuable experience and developed procedures to apply to future deployments. We value the relationship that developed during this short deployment and plan similar efforts for future maritime applications."
"The Radar capabilities are impressive," Venable added. Being able to detect air and surface tracks beyond the onboard sensors of the ship is critical to situational awareness and illicit trafficking detection and monitoring. The advanced processor allows the operator to interpret the data quickly."
Using a systems-of-systems approach, the HSV-2 also employed a complimentary Intelligence, Surveillance and Reconnaissance (ISR) technology during operations; a tactical UAV called "Puma." ISR data from the Raven Aerostar solution and the Puma UAV was shared with the Joint Interagency Task Force South (Key West, Fla.), who is responsible for the coordination of assets and dissemination of information to the Caribbean Basin nations combating illicit trafficking.
"The Aerostar team, along with Vista Radar personnel, was extremely professional and knowledgeable in adapting the aerostat and sensors to the maritime environment. Aerostar was a great partner in applying these new concepts to proven systems," explained Venable.
Raven Aerostar's flight operations team returned from sea mid-May with great confidence that its equipment could make a real impact on regional security.
Lon Stroschein, Raven Aerostar president, explained, "Aerostar has been providing highly engineered, Lighter-Than-Air products for over 50 years to customers including the U.S. Military and NASA. With our aerostat platform and the proven capability of our Vista radar, we had the utmost confidence that this maritime solution would be a success. We are committed to supporting maritime domain awareness programs with our U.S. and international customers. Our team was excited to prove the aerostat, a perceived 'old' technology, can provide cost-effective, mission enhancing, maritime capabilities when integrated with high-performance sensors like the Vista radar and General Dynamics camera."