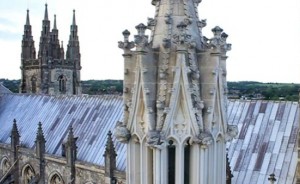 Eagle Video Productions has obtained unique video footage inside Canterbury Cathedral using its EagleCam drone to tempt tourists to visit Canterbury.
Following the recent enthronement of the 105th Archbishop of Canterbury, the Cathedral is attracting more visitor enquiries and the EagleCam video now gives potential tourists the chance to see the beauty and history in the area and encourage them to visit Canterbury for a holiday.
Canterbury Cathedral can now be seen from a new perspective thanks to Eagle Video and the Eagle Cam. For the first time in the Cathedral's history, permission was given to operate a remote flying camera inside and through the Cathedral. The EagleCam was expertly manoeuvred to 400ft over the cathedral and inside hovering close to precious ceilings and stained glass windows to capture architectural detail and original viewpoints of the ancient monument. Eagle Video Productions combined the footage with a brief historical overview to create a video to encourage tourists to visit Canterbury Cathedral and the surrounding area.
"Our clients are always thrilled with the "wow" factor of our EagleCam videos" said Michael Jaques of Eagle video Productions "and we are trusted to video ancient monuments, schools, hotels and sporting events to provide a professional 'bird's eye view ' of the environment or the action. Our pilot has over 30 years' experience with remote models, and is certified and approved by the British Model Flying Association and the Civil Aviation Authority. We use a full HD broadcast quality camera to guarantee spectacular results. We find that aerial video really captures viewers' attention and keeps the audience interested much longer than standard shots and this give business more opportunity to get their message across."
Michael Jaques has been fascinated by film from childhood, when he was given a Standard 8 cine camera by his father and began creating his own productions. After beginning his career filming amateur dramatic productions, he moved on to business videos and the EagleCam was a natural progression to offer his clients the option of aerial photography. "Getting permission to fly over and inside Canterbury Cathedral was something I always wanted to do" said Michael, "And once this was granted, everyone there was so encouraging and helpful." The Cathedral website now displays the video to inspire people to to visit Canterbury and enjoy the many nearby attractions.
The promotional video, featuring the aerial footage, can be viewed below: