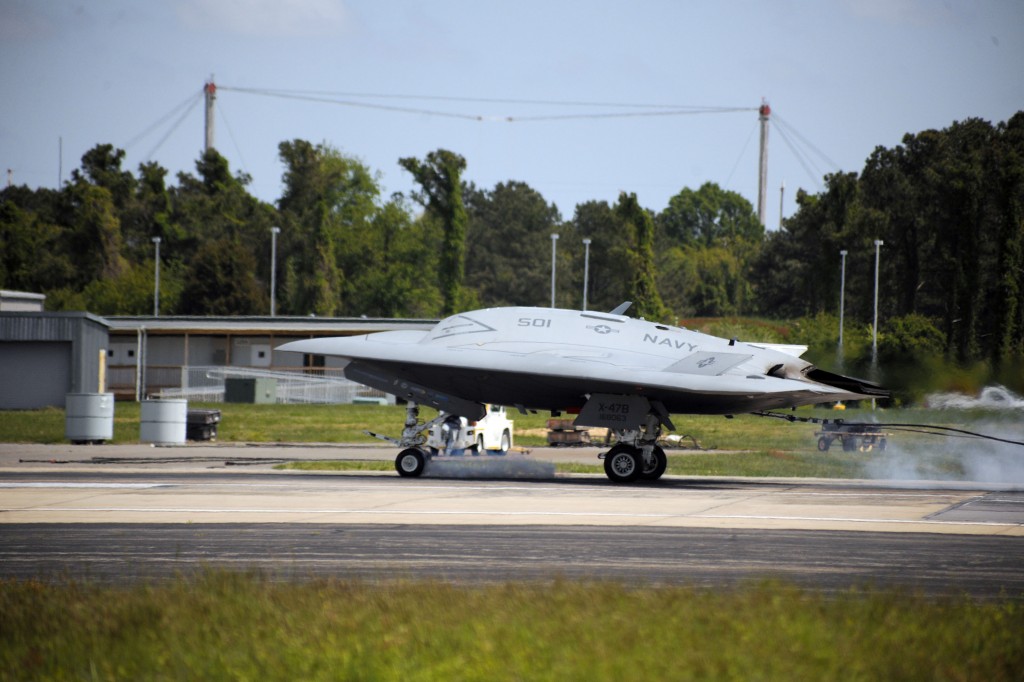 Northrop Grumman Corporation and the U.S. Navy have conducted the first fly-in arrested landing of the X-47B Unmanned Combat Air System (UCAS) demonstrator.
Conducted May 4 at the Navy's shore-based catapult and arresting gear complex here, the test represents the first arrested landing by a Navy unmanned aircraft. It marks the beginning of the final phase of testing prior to carrier-based trials planned for later this month.
"This precision, shore-based trap by the X-47B puts the UCAS Carrier Demonstration [UCAS-D] program on final approach for a rendezvous with naval aviation history," said Capt. Jaime Engdahl , the Navy's UCAS program manager. "It moves us a critical step closer to proving that unmanned systems can be integrated seamlessly into Navy carrier operations."
During an arrested landing, the incoming aircraft extends its landing hook to catch a heavy cable extended across the aircraft landing area. The tension in the wire brings the aircraft to a rapid and controlled stop. View the video below:
Carl Johnson , vice president and Navy UCAS program manager for Northrop Grumman, said this first arrested landing reinforced what the team already knew.
"The X-47B air vehicle performs exactly as predicted by the modeling, simulation and surrogate testing we did early in the UCAS-D program," Johnson said. "It takes off, flies and lands within a few feet of its predicted path."
The arrested landing test culminates more than three months of shore-based carrier suitability testing at Naval Air Station Patuxent River. The testing included precision approaches, touch-and-go landings, and precision landings by the X-47B air vehicle.
For the arrested landing, the X-47B used a navigation approach that closely mimics the technique it will use to land on an aircraft carrier underway at sea.
Northrop Grumman's UCAS-D industry team includes Pratt & Whitney, Lockheed Martin, GKN Aerospace, Eaton, General Electric, UTC Aerospace Systems, Dell, Honeywell, Moog, Wind River, Parker Aerospace and Rockwell Collins.