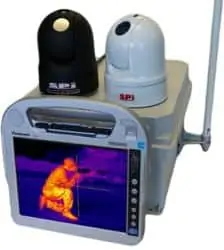 The M1-D thermal pan tilt zoom camera platform from SPI Corp is now available with a wireless network option. This is the first low cost wireless PTZ to offer visual imaging, thermal imager and laser pointer in a compact 4.5" gimbal style profile.
SPI has over a decade of experience in manufacturing and distributing thermal pan tilt zoom systems for military and civilian customers. SPI developed the M1-D thermal pan tilt zoom platform to fill the market need for a rugged but low cost PTZ system. Due to the success of the M1-D they have expanded the product line to include integrated wireless network options. The systems are in production and available for shipping now.
"We have been blown away by the positive response to the M1-D" explained Randall Kolchins, Director, SPI Corp. "We can hardly keep them on the shelves. But the one thing we have had customers asking for is an effective wireless thermal pan tilt solution that won't break the budget. Well, we always deliver what our customers want." Pan tilt thermal camera systems combine a thermal imaging camera with a positioning platform that lets the user pan or tilt the camera remotely. These systems have traditionally been tethered to a wired controller that limits the distance and capabilities of the operator. Wireless pan tilt thermal cameras with network interface are not new but they have been cost prohibitive for most users. SPI Corp claims to have developed a thermal pan tilt camera system that is a fraction of the cost of current offerings.
"Our philosophy with the M1-D is to keep costs down. We believe in true cost pricing and feel that most other manufacturers charge inflated pricing on thermal PTZ systems based on what they think they can get rather than what it actually costs to produce." Mr. Kolchins further offered, "we worked really hard on this solution and we are proud of the outcome. Our guys are amazing and produced a wireless option that will blow the competition away!" SPI claims that their M1-D PTZ system is currently popular across several market segments including armored vehicles, crash rescue trucks, perimeter surveillance and UAV payloads. They indicate that their new wireless thermal pan tilt solution will further expand their presence into these markets as well as open new ones.
New product packages based on the SPI Corp wireless pan tilt thermal camera system include a drop deployable field kit, multi camera remote surveillance systems and mobile omni-directional wireless vehicle mounts. Currently fielded M1-D systems can also be upgraded to take advantage of the new technology wireless capability.
SPI Corp is located in Las Vegas, Nevada and has been in the business of manufacturing and distributing Thermal Pan Tilt Camera solutions for well over a decade. Existing products include thermal PTZ, hand held thermal imagers, thermal riflescopes and infrared cameras. SPI wireless thermal pan tilt camera products are available now.