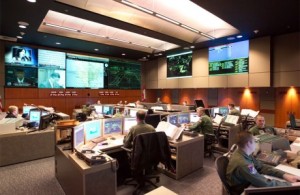 Lockheed Martin is upgrading the command and control system that allows Joint Force Air Component Commanders to deploy air assets, execute air tasking orders and synchronize management of air operations.
The U.S. Air Force selected Lockheed Martin to modernize the air tasking order capabilities within the Theater Battle Management Core System (TBMCS). As the 'engine of the Air Operations Center,' TBMCS directs flying operations for all airborne assets, including fighters, bombers, tankers, unmanned aerial vehicles, helicopters and cruise missiles.
This Air Tasking Order Management System (ATOMS) delivery order was awarded under the Command and Control Applications and Information Services Development contract, a five-year, $249 million, multiple-award indefinite delivery/indefinite quantity program. This ATOMS order is valued at $12 million, with a base period of performance through March 2015, followed by three one-year options.
"Since its deployment, we've integrated true net-centric services into TBMCS, all while the system was supporting 24×7 operations at locations around the world," said Jim Quinn , vice president of C4ISR Systems for Lockheed Martin Information Systems & Global Solutions. "These enhancements will provide users with faster access to real-time operations and intelligence data, as well as better planning and collaboration tools for enhanced situational awareness and decision-making."
Under this contract, Lockheed Martin will update the software that drives air tasking capabilities that Combined Air Component Commanders use to plan, organize and direct joint U.S. air operations. An updated command and control air operations applications suite will allow warfighters to perform mission planning and re-planning quickly and efficiently within a fully net-centric environment, with significant improvement over legacy applications. This modernization also provides a complete functional replacement of three existing applications within TBMCS: the Theater Air Planner, the Execution Management Re-Planner, and the Master Air Attack Planning Toolkit.