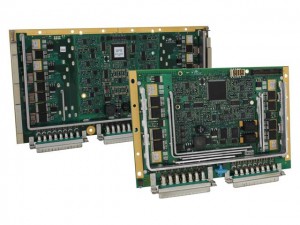 Data Device Corporation (DDC) has introduced its latest and most advanced generation of solid-state power controllers (SSPC) featuring on-board DC-to-DC converters to simplify power supply requirements, a new command interface to reduce bus traffic, and enhanced digital discrete control capability designed to improve system integration.
DDC's Solid-State Power Controllers provide advanced programmability to simplify crew operation, automated power control to optimize power utilization, and automated prognostic/diagnostic reporting which eliminates the need for scheduled maintenance. The cards offer intelligent power management advantages such as accurate over-current protection, programmability, load monitoring, and network control to simplify vehicle power management. They also provide Size, Weight, and Power (SWaP) savings, with higher reliability and longer life compared to electromechanical circuit breakers and relays.
"Our SSPCs have long supported the demanding power distribution needs of both manned and unmanned military programs deployed worldwide, including the M1A2, Bradley, LPPV, MQ-9 Reaper, and MRAP. Now, with these new cards, DDC takes power control to the next level, increasing functionality and simplifying integration, to provide leaner, more intelligent power control for upcoming generations of ground, sea, air, and space applications", stated Steve Rood Goldman, DDC's Marketing Manager.