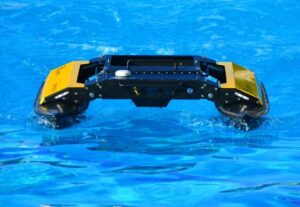 Clearpath Robotics recently unveiled the Kingfisher M200 Remote Survey System, a completely new Kingfisher design that provides environmental professionals with an agile, customizable platform for remote sensing and environmental monitoring.
"We've spent two years researching and interacting with customers. We really hit the nail on the head with the Kingfisher" said Matthew Rendall, CEO of Clearpath Robotics. "Earlier iterations of the Kingfisher were a great proof-of-concept model that allowed us to collect vital feedback from industry professionals. Using client input, we've built a much more relevant and reliable tool."
With applications ranging from hydrology staples such as bathymetric data collection, shore erosion monitoring, sediment mapping and flow rate measurements, to dam inspection and harbour safety, the Kingfisher M200 is up for almost anything, and looks good doing it.
Newly refined features – including semi-planing hulls for increased speed with less draw on power, a compact design, and electric jet thrusters that allow the Kingfisher M200 to traverse fast-moving water with ease – make the newest Kingfisher a perfect choice for performing dangerous, dirty, and dull jobs. The vessel is also incredibly customizable, with add-on options including acoustic doppler current profilers (ADCP), single, multi-beam or side scan sonars, LiDAR, and GPS with accuracy up to 2cm.
In terms of efficiency, the Kingfisher M200 does not disappoint. Able to collect nearly 100 times more data, up to eight times faster than traditional survey methods, the Kingfisher can cut labour and budget requirements by 75% – all while dramatically improving onsite safety.
"The fact that the Kingfisher can not only increase efficiency and data accuracy, but also make potentially deadly work situations so much safer is a compelling reason for Clearpath to keep advancing our technology," said Rendall. "Sending a highly capable robot into dangerous situations is infinitely more responsible than risking human life."