RGB Spectrum's new Annotator option combines the powerful image processing of the QuadView HDx multiviewer with the ability to highlight, draw, and point over any portion of the multi-image output.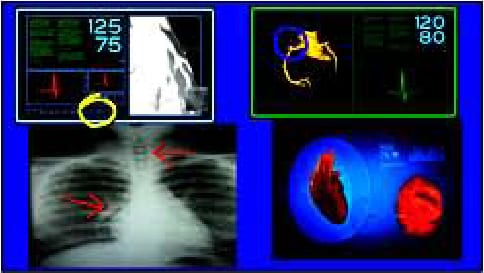 The Annotator enables presenters to direct focus to key areas of graphics and video displayed on screen in user-defined windows through the use of various kinds of markers, including cursors, drawing tools, and highlighters. Markers are available in multiple color and style choices and stored in up to 25 overlays. The use of multiple overlays allows
annotations to be set up offline and recalled during a presentation.
Exclusive to the Annotator option for the QuadView HDx is the ability to scale and move windows from the same control device used to make annotations. A simple tap on the screen toggles between "annotation" mode or "window control" mode. This unique feature offers the presenter more ways to interact with the display, allowing layouts to be changed on the fly.
Input devices include touch screens and graphics tablets. Presenters can maintain face-to-face interaction with their audience thanks to the Annotator's ability to support two displays simultaneously, even allowing use of a secondary touch screen for annotations. Collaboration is possible through the use of up to 10 input devices connected via a USB hub and servicing a like number of users.
The Annotator has several features targeted specifically for use with live video, including a date/time stamp. Video inputs can be frozen for annotation. The unit is HDCP compliant and will display protected content.
Built-in networking capabilities enable additional functionality. "Snapshots" with imaging and annotation can be saved to a USB drive or network storage device and printed to a network or local USB printer. Multiple units can be used in a teleconference to annotate the same image.
Annotator top features include:
– Scale and annotate video (HD/SD, NTSC/PAL) and graphics sources
– Freehand draw with 12 pointer types, 4 line widths, 7 colors, 3 highlight colors
– Resize and move windows
– Freeze live video for annotation
– Save snapshots to USB memory device or network drive
– Print snapshots to a network or local USB printer
– Share snapshots via teleconference
– Control with touch screen, digitizing tablet, mouse, & keyboard
– Collaborate with multiple users on annotations
The Annotator is housed in a slim 1 RU enclosure to match the QuadView HDx multiviewer. All connections are over DVI lines to insure signal integrity.