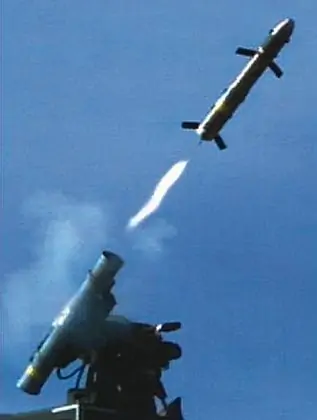 Engineers at the Raytheon Co. Missile Systems segment in Tucson, Ariz., are moving ahead with a project to deploy a small missile called Griffin on unmanned aerial vehicles, ground vehicles, surface ships, and utility aircraft with an $85 million U.S. Air Force contract awarded Friday for Raytheon to build 22 all-up Griffin missiles and 43 telemetry rounds for Griffin tests.
Raytheon developed the 45-pound Griffin missile internally in response to needs for missiles smaller and producing less collateral damage than the Hellfire. The Griffin guidance system combines inertial sensors and GPS guidance, as well as a semi-active laser seeker. Its warhead is a 13-pound blast-fragmentation explosive, which is strong enough to destroy soft targets such as ground vehicles and radar sites.
Friday's contract from the Air Force Air Armament Center at Eglin Air Force Base, Fla., calls for Raytheon to build 22 full-capability Griffin missiles, as well as 43 telemetry rounds, which Air Force experts will use for further Griffin testing.
The Griffin missile comes in two versions: the Griffin-A deployed from Gunslinger tubes on the rear ramps of versions of C-130 aircraft; and the Griffin-B that can be launched from ground vehicles or fixed land sites, and surface ships, as well as from manned and unmanned aircraft.
Griffin is expected to equip the MQ-1 Predator and MQ-9 Reaper unmanned fixed-wing aircraft, the MQ-8 Fire Scout unmanned helicopter, and versions of the C-130 utility aircraft in its gunship role. Since the Griffin is smaller than the Hellfire missile, military experts say they can fit larger numbers of Griffin missiles on unmanned aerial vehicles (UAVs).
The Griffin missile also may be deployed on ground vehicle-mounted launchers, aboard the Navy Littoral Combat Ship surface warfare module, and on the Army OH-58D Kiowa Warrior scout helicopter.
Raytheon developed tube-launched Griffin using components from the FGM-148 Javelin and the AIM-9X Sidewinder missiles. The Griffin is 5.5 inches in diameter, 42 inches long, has a solid-fuel rocket engine, and has a range of 3.5 miles when surface launched, and about 12 miles when air launched.