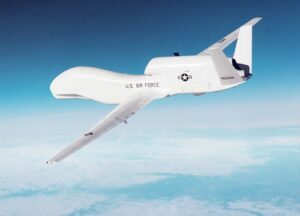 Global Hawk Block 40(RQ-4) is an unmanned aerial vehicle (UAV) that has been procured along with four small vehicles by 13 NATO nations.
Weighing only 6.7 T and with 5 m length, this UAV can extend its operation over 30 hours. It can have clear vision through any light condition or weather. It ensures enhanced ground, maritime and air surveillance capability for Alliance.
During mutual attack by insurgents in Afghanistan, bombs are exploded in various areas that had group of international aid agencies. A NATO convoy and Afghan government offices are also targeted in the attack. Casualties exist and NATO Air Ground Surveillance System (AGS) have been activated.
High-tech ground surveillance radar has been incorporated to AGS's UAV. Upon deployment, the radar can collect near-real-time data on ground-based moving targets.
NATO AGS analyzed the situation ahead of medical teams and ground support. AGS Main Operating Base in Sigonella, Italy offers the appropriate data stored from earlier AGS missions and other national interoperable systems. Stored data enables the investigation of any earlier occurrence of suspicious movement along the attacked areas. It provides an absolute picture for situational awareness.
Data history represents suspect movement. The radar generates imagery of the area. The suspicious vehicles will be located by AGS, wherein the information is passed to interoperable forces. With this information, a boundary will be formed enabling medical and support teams to reach the attacked locations to safely remove the injured.
AGS ensures carrying out the complete mission of NATO like protection of civilian populations and ground troops, border control and maritime safety, crisis management, the fight against terrorism, and humanitarian assistance during natural disasters.
A part of AGS, UAV includes 40 m wingspan, measuring 14.5 m in length with over 30 hours flight. It can capture imagery in any weather or light condition. UAV's graphite wings enable flight at higher altitudes up to 19,000 m.
The AGS encompasses five UAVs as well as land based fixed, transportable and mobile base stations, through which the Alliance can develop its own ground defense capability with the help of near-real-time surveillance information.
The AGS system can defend and protect NATO against any security threat to its Member states. It can track both static and moving objects, providing a near-real-time imagery of the situation on the ground.
Supplementary surveillance systems for AGS will be offered by the U.K and France. It can also be customized with interoperable national airborne and ground systems.
Source: NATO