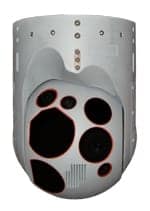 FLIR Systems, Inc. announced today the successful integration of the COBALT™190 multi-spectral imaging sensor with ARCTURUS UAV T-20, and L-3 Interstate Electronics Corporations' VideoScout.
The COBALT 190, a compact, lightweight EO/IR system with up to seven simultaneous payloads, was developed for unmanned applications in FLIR's facility in North Billerica, Massachusetts. L-3's VideoScout product line is a computer-based full-motion video and intelligence management and collection system currently supporting troops in-theater.
"FLIR, L-3 Interstate Electronics Corp., and ARCTURUS UAV, has proven a complete end-to-end ISR (intelligence, surveillance and reconnaissance) solution," says Darrell Kindley, general manager of Boston Operations, FLIR Government Systems. "This successful flight testing demonstrates Level 3 command and control of the COBALT 190 from the ground."
The test flight occurred in June of 2011, and the full integrated solution is on display this week at AUVSI (booth 3115) in the Walter E. Washington Convention Center.