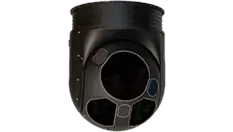 FLIR Systems, Inc. announced today that the Star SAFIRE 380-HD electro-optical/infrared (EO/IR) sensor has been selected by General Atomics Aeronautical Systems, inc (GA-ASI) as leading EO/IR sensor candidate for various Predator XP Unmanned Aircraft System (UAS) pursuits in the Middle East and North Africa. Offering comparable ISR capabilities as Predator, Predator XP has been licensed by the U.S. Government to be proposed for sale to a broader customer base, including countries in the Middle East and North Africa.
FLIR Systems Star SAFIRE 380-HD, a second generation HD sensor, is a gyro-stabilized, multi-spectral, high-definition, digital EO/IR system. It has high structural rigidity, suitable for installation and operation on a wide range of UAS, helicopters, fixed wing aircraft and ships. Its internal IMU allows high-accuracy geo-pointing, stabilization and referencing. Star SAFIRE 380-HD is configured to operate simultaneously in the visible, near-IR and mid-wave bands.
"This selection highlights FLIR's position as a leading supplier of thermal HD imaging sensor systems," said Bill Sundermeier, president of FLIR Government Systems. "We are pleased to partner with GA-ASI in providing situational awareness and real-time surveillance to protect coalition forces operating in the Middle East and North Africa."
The Star SAFIRE 380-HD integration and testing will begin in March 2011.