Deep Trekker has released the following article explaining how sonar-equipped Remotely Operated Vehicles (ROVs) can be used for underwater infrastructure inspection, and some factors to consider when choosing an ROV. 
---
WHAT ARE UNDERWATER TUNNEL AND INFRASTRUCTURE INSPECTIONS?
There are many structures that run through our cities that are not seen by most. Structures are required to deliver our wastewater, stormwater, and drinking water to and from treatment facilities and source locations. These structures need inspections to determine their long term viability and condition, to make educated repair decisions. Repairing these structures is not quite as easy as repairing buildings and roads, since these are under many other structures, and involve many moving parts to perform these repairs. Inspections are conducted to determine structural condition, sediment levels, and more. The inspections can be conducted by divers, confined space entry, excavation, or robotic vehicles.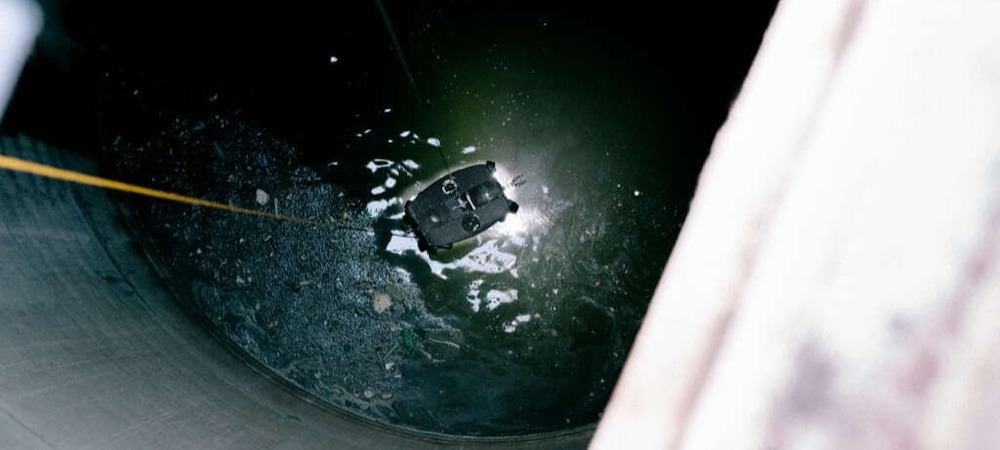 WHY USE AN ROV FOR UNDERWATER INFRASTRUCTURE INSPECTION?
For fully submerged pipe and tunnel inspections, an ROV is an excellent tool. In some environments, such as when the water is murky or the diameter of the tunnel is large, it is difficult to rely on just a camera to perform a thorough inspection. Limited visibility can make it difficult to identify defects. An operator can drive the ROV closer to the walls, top and bottom of the tunnel to get a clear enough image, but that may mean multiple passes and may not provide adequate data such as understanding the sediment levels in the tunnel.
These are some of the factors to consider when choosing an ROV for tunnel inspection:
Length and Diameter of the tunnels

Smaller diameter, smaller vehicle
Larger diameter, more likely to need imaging sonar (lights and camera alone will not provide enough context to the operator to perform thorough inspections)
Longer tunnels may require more powerful vehicles or imaging sonars to help make the inspection more efficient

Access Points

Size of access points (Size of Vehicle)
Number of access points (Length of tether required)
Location of access points (How portable of a system is needed)

Condition of the Tunnel

Sediment Levels (Tracked vehicles and swimming vehicles are better when there are significant amounts of debris in the pipe)
Submerged vs. Partially Submerged vs. Empty (Crawling vehicle vs. Swimming vehicle)

Type of Data Required

General Visual Inspections can be done with a simple camera and lights
Sonars help get a general visual in murky water
Position in the pipe (USBL does not work, tether length counter required)
Sediment Levels require a sonar
BENEFITS OF USING A SONAR WITH AN ROV FOR UNDERWATER INFRASTRUCTURE INSPECTIONS
Adding an imaging sonar to the ROV enables operators to have a better understanding of the tunnel's condition as a whole and allows for the following defects to be identified:
Tunnel Condition

Deformation
Ovality
Corrosion

Size and Types of defects

Cracking & Pitting
Collapses
Disjoints and Separation

Obstructions

Sediment Levels, can hide deformations, reduce flow rates, increase risk of overflows
Foreign objects (building materials, tree rooting, cross bore pipes or cables)
Protruding Laterals
Finding these defects enables repair decision-making to happen. Not all defects require immediate attention. Often, these become points of interest for later evaluation. The goal is to identify changes over time, to see if a defect is getting worse quickly or slowly. If the defect is at a critical point and is growing in severity, then repair actions need to be immediate. However, equally as important from a cost perspective, being able to narrow down which defects do not require attention helps reduce unnecessary repair spending. The benefit of an easy to operate ROV in your fleet is that the revisiting of these defects can be taken on by virtually any operator.